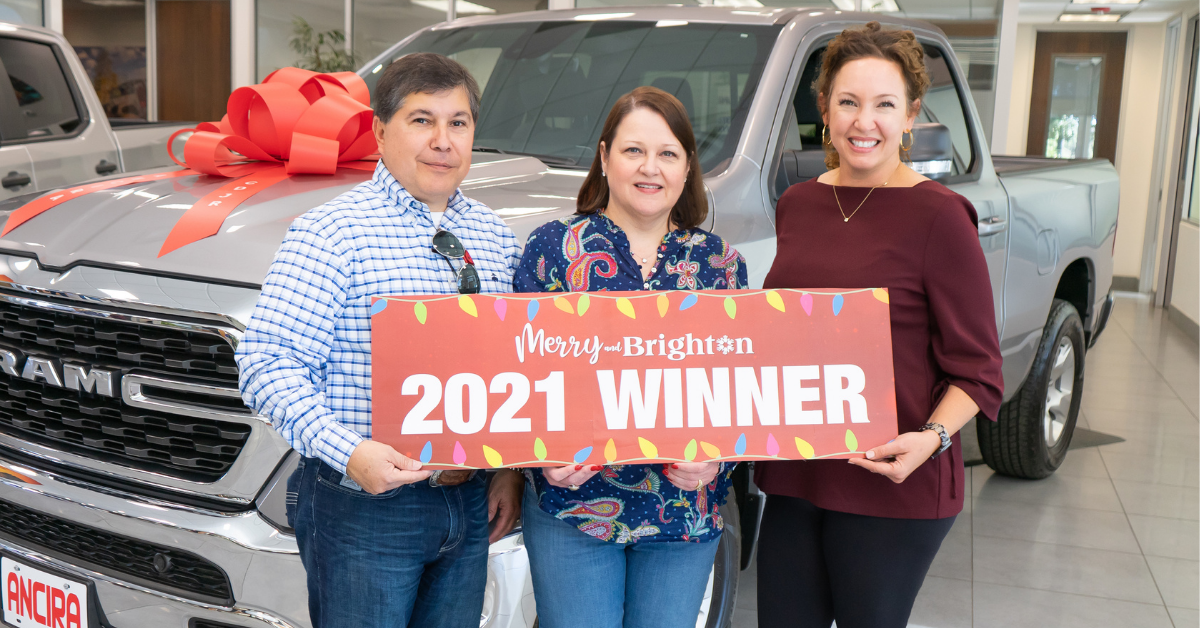 Raffle winner Rick Mendoza and his wife, Brighton Center's Chief Development Officer, Sara Pfeifer
Since the pandemic began in 2020, fundraising has been quite a challenge for nonprofit organizations across the country. That didn't stop our agency from developing new ways to help our nonprofit clients raise crucial cash to keep their missions moving forward. Brighton Center's Merry & Brighton Online Auction & Raffle was the answer to exactly that.
For the second year, Merry & Brighton has proven to be a huge success with this year's campaign raising over $226,000! That's a 40.4% increase from the 2020 campaign which raised over $161,000. Both year's funds were critical in allowing Brighton to successfully navigate the challenging years of the pandemic and the strain it put on their organization.
Thanks to the involvement and generosity of the community, Brighton is thriving and helping more children and families than ever before. "Merry & Brighton has turned out to be a very successful fundraising event with nearly $400,000 raised since its inception in 2020," stated CEO and Founder of The PM Group, Bob Wills. "Brighton Center is a beacon of hope in our community for children with disabilities. Their innovative therapies, tireless efforts and exceptional programs have long-lasting positive impacts on these children", stated Fran Yanity, President/COO, The PM Group.
On top of the excitement of helping organizations raise funds, a campaign like Merry & Brighton is even more exciting when a lucky winner is able to take home a brand-new truck thanks to our partnership with Ancira. Rick Mendoza was our winner of this year's raffle and was able to drive away in a new 2022 Dodge Ram 1500.
The success of campaigns like Merry & Brighton are reasons we continue to feel passionate and proud about the work we do as a full service marketing agency at The PM Group. We look forward to another year of continuing to help our community thrive through events and campaigns like our Texas Hold'Em Charitable Poker Tournaments, Drive Away for Education, Merry & Brighton, Thomas J Henry's Battered Women and Children campaigns, and so many more.
About The PM Group: The PM Group was founded in 1988. For over 33 years, the agency has continued to grow and is San Antonio's largest advertising agency. The PM Group's client roster spans numerous industries including home services, automotive, CPG, entertainment and sports marketing, legal, business services, non-profits, real estate and fitness. For two consecutive years now, the Agency has set annual revenue records with the addition of six new clients and through the continued success of our existing clients. Additionally, the agency hosts their annual Charity Gala that to date has raised millions of dollars for local San Antonio area non-profit organizations in the last 15 years! In 2020 alone, the Agency donated over $1,050,000 to local non-profits. It is our way of giving back to the community that we so humbly serve.