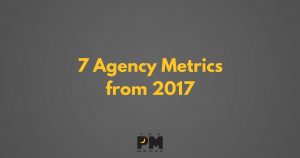 When you look at the numbers, 2017 was a productive and prosperous year. But when you look at the experience, our year was filled with learning, growth and creativity. As we look back on all we accomplished throughout the year we wanted to share some agency metrics that showcased our achievements.
In 2017:
– 228 TV spots were created
– 77 radio spots were created
– 86 radio buys were placed
– 552 TV and cable buys were placed – WOW!
Talk about putting the work in! Not only do we feel extremely proud about these numbers and what they represent but we're also extremely proud of what we helped our clients achieve. Here are some of their milestones:
– We coordinated and executed a record setting digital campaign for the American Payroll Association that netted over 24,000 survey completions in 20 days. With the results, the American Payroll Association will use the data to improve their relationships with their current members and provide additional resources for their members' success in their jobs.
– We coordinated and executed a record-setting IHOP Summer Gift Card Promotion campaign with Six Flags Fiesta Texas that sold over $1.3 million in IHOP gift cards throughout South Texas. After just two years of one of the most successful promotions The PM Group has ever executed, IHOP has garnered over $2.7 million in gift cards during a time of year when gift card sales are at a seasonal low.
– We coordinated and executed the broadcast production and media plan for ChildSafe's Cardboard Kid Campaign which helped bring the number of distributed Cardboard Kids to a record setting 78,000 in 2017. Rising from only 5,846 Cardboard Kids distributed in 2014, the success of this campaign over the years has raised awareness during National Child Abuse Prevention Month in April and encouraged more conversation about this serious issue in our community.
We look back on 2017 as a year of many great accomplishments and we can't wait to continue to deliver for our clients in 2018.
About The PM Group: The PM Group was founded in 1988. Over the past 30 years, the agency has continued to grow and is currently listed as San Antonio's Largest Advertising Agency by the San Antonio Business Journal. The PM Group's client roster spans numerous industries including automotive, CPG, entertainment and sports marketing, legal, business services, non-profit, real estate and fitness. In addition, the agency hosts an annual Charity Gala every February that to date has raised over $2.5 million for local San Antonio area non-profit organizations in the last 15 years! It is our way of giving back to the community that we so humbly serve.