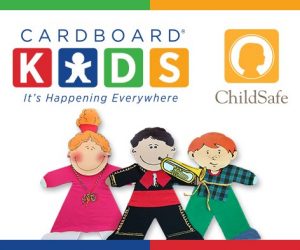 Momentum is building for ChildSafe's Cardboard Kids campaign, a community-wide effort to heighten awareness of child abuse and neglect, an issue that continues to plague Bexar County. The campaign began in 2014 with 5,846 Cardboard Kids; this year 60,000 will be distributed to individuals, civic groups, schools and businesses across the city. They represent the thousands of abused children in our community. Cardboard Kids are memorable 2-foot high cardboard kid cutouts that citizens PICK-UP, DECORATE and DISPLAY on April 6.
Cardboard Kids will be distributed free to the public March 3-4 and March 10-11 at San Antonio area malls and TriPoint YMCA; Fridays 1 pm – 5 pm and Saturdays 10 am – 5 pm, at the following locations:
Ingram Park Mall – lower level outside of Dillard's
North Star Mall – lower level center court
Rolling Oaks Mall – lower level by main entrance
South Park Mall – near Food Court
D.R. Semmes Family YMCA at TriPoint – lobby area
"Cardboard Kids is a unique way to engage the entire community to help address and bring awareness to the relentless abuse of our youngest and most vulnerable citizens," said Kim Abernethy, ChildSafe President & CEO. "This is especially critical when only 1 out of 10 victims ever make an outcry; we must be their eyes, ears and mouths," she said.
Citizens are asked to join in this effort by:
Pick up a Cardboard Kid at an area mall during a distribution weekend. Decorate the Cardboard Kid while talking to your kids about child abuse and personal safety. The Cardboard Kids' website has tips for how to talk to children about personal boundaries and protection.
On April 6, take your Cardboard Kid wherever you go and display it in a prominent spot. Take a photo of your Cardboard Kid, or any others you see in the community on that day, and share it on social media using #cardboardkidsSA to begin a dialogue about this pressing issue.
ChildSafe, now in its 25th year of service, invites all citizens to be a part of this campaign. To learn more about Cardboard Kids, visit www.cardboardkidsSA.com.
Of the top four counties in Texas that have the highest number of confirmed cases of child abuse and neglect, Harris, Dallas, Tarrant and Bexar, Bexar County has the highest incidents of child abuse per capita, based on child populations.
Also on display this year will be Info Kids, larger Cardboard Kid cutouts showcasing a startling national statistic that is also valid in San Antonio: 4 children die of child abuse and neglect every day in the U.S. (source: https://www.childhelp.org/child-abuse-statistics/).
Texas Department of Family Services says call the Texas Abuse Hotline at 1-800-252-5400 if you suspect child abuse, especially if you think a child might be in immediate danger.
"The issue of child abuse and neglect is one that the community must confront together, from all corners of our city, as it is too big for one organization or individual to tackle alone," said Abernethy.
ChildSafe staff performs forensic interviews, crisis intervention, case management services, counseling, and advanced therapy to aid in the healing of child victims of abuse and neglect. And they work with Child Protective Services, law enforcement, and prosecutors to bring perpetrators to justice. As the only Children's Advocacy Center in Bexar County, ChildSafe has been providing expert care for young children of abuse for 25 years.
For more information about ChildSafe, please visit www.childsafe-sa.org or call (210) 675-9000.