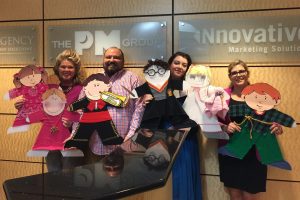 We are proud to stand with ChildSafe as they begin another year of spreading awareness about child abuse in our community. They provide hope to the children of Bexar County and give them a voice when they feel like they don't have one. Join us as we take part in this year's Cardboard Kid campaign.
ChildSafe's Mission:
ChildSafe is a beloved PM Group client. More importantly, they are the only Children's Advocacy Center in Bexar County with the mission to restore dignity, hope, and trust to children traumatized by abuse and neglect. In addition to offering counseling to families, and aid to children in need with historical or ongoing abuse cases, ChildSafe helps spread the word all over San Antonio and the surrounding areas about the serious issue of abuse in our city. That's why ChildSafe promotes child safety and proper treatment of youth with the positive message of Cardboard Kids, informing children that it's okay to speak up and seek help.
What are Cardboard Kids?
Cardboard Kids are cardboard cutouts in the shape of children. Bexar County residents are encouraged to "adopt" a Cardboard Kid and decorate the board with a unique design. Some are modeled after real people, while others are just decorated from pure imagination. We've seen decorated Spurs players, cowgirls, piglets, ninjas, doctors, and much much more. What started as a small movement has now grown into a massive outpouring of support throughout our community for child abuse victims. When the campaign started in 2014, 5,846 Cardboard Kids were passed out in our community. That number has steadily grown each year. In 2017, 76,000 Cardboard Kids were distributed citywide!
By decorating and displaying cardboard kids in the windows and storefronts of local homes and businesses, ChildSafe and Cardboard Kids have created a movement in San Antonio. Our city now annually stands in solidarity with the children who need it most. Thanks to this incredible movement, more and more children feel safe to discuss their traumas and seek professional help – all thanks to San Antonio's decorated Cardboard Kids.
How can I join the movement?
To get involved and join Bexar County's largest movement against child abuse, adopt a cardboard kid Friday and Saturday, March 2nd – 3rd and March 9th – 10th at the following pickup locations:
North Star Mall
South Park Mall
Ingram Park Mall
Rolling Oaks Mall
About The PM Group: The PM Group was founded in 1988. Over the past 30 years, the agency has continued to grow and is currently listed as San Antonio's Largest Advertising Agency by the San Antonio Business Journal. The PM Group's client roster spans numerous industries including automotive, CPG, entertainment and sports marketing, legal, business services, nonprofit, real estate and fitness. In addition, the agency hosts an annual Charity Gala every February that to date has raised over $2.5 million for local San Antonio area nonprofit organizations in the last 15 years! It is our way of giving back to the community that we so humbly serve.