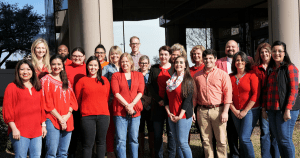 The PM Group has created marketing solutions for a variety of clients over the past 30 years. We have crafted campaigns large and small for clients around the country and even internationally. But, we like to say our best work has always been for charitable non-profits. Just as we follow marketing trends for our advertising business, we follow community trends as well. With heart disease on the rise as one of the most lethal diseases in the nation, The PM Group has taken a stand.
The PM Group is a huge supporter of the American Heart Association, maintaining a close bond with the San Antonio chapter of the national movement. The agency (pictured below) recently went all red for National Wear Red Day to support the American Heart Association and their incredible mission of reducing heart attack and stroke in our nation.
The PM Group President and COO, Fran Yanity, feels strongly about the agency's commitment to red. "San Antonio is both our home and home base for many of our agency clients. As the largest advertising agency here in the Alamo City, it is our responsibility to do everything we can to improve the future of our city as well as the health and welfare of the people who live here." Fran added.
Although heart disease is predominant in men, it is especially dangerous to women; in part, because many don't expect that they are even at risk. Fran started the inaugural San Antonio Red Sofa Tour to spread the American Heart Association message and raise awareness for this cause. "More than 627,000 women have been saved from heart disease and stroke as a result of the Go Red For Women movement," said Fran, the 2018 Go Red For Women chair. "I have vowed to lead the cause in San Antonio for all of our grandmothers, aunts, cousins, sisters, friends, and daughters. Together we can prevent heart disease and stroke."
The Red Sofa tour has appeared all over San Antonio, advocating for a healthier tomorrow by spreading awareness for the American Heart Association. The tour recently stopped front and center in downtown San Antonio outside city hall to spread the crucial message.
The American Heart Association mission is one near and dear to Fran's heart, having dealt with heart disease in her own family. She also recently served as the 2018 Go Red for Women Luncheon Chairwomen. The luncheon will help activate and inspire women of San Antonio to be mindful of their own heart health. As an agency, we want to spread encouragement and inspire others to make healthy life choices and therefore make our city a better place for all.
About The PM Group: The PM Group was founded in 1988. Over the past 30 years, the agency has continued to grow and is currently listed as San Antonio's Largest Advertising Agency by the San Antonio Business Journal. The PM Group's client roster spans numerous industries including automotive, CPG, entertainment and sports marketing, legal, business services, non-profit, real estate and fitness. In addition, the agency hosts an annual Charity Gala every February that to date has raised over $2.5 million for local San Antonio area non-profit organizations in the last 15 years! It is our way of giving back to the community that we so humbly serve.