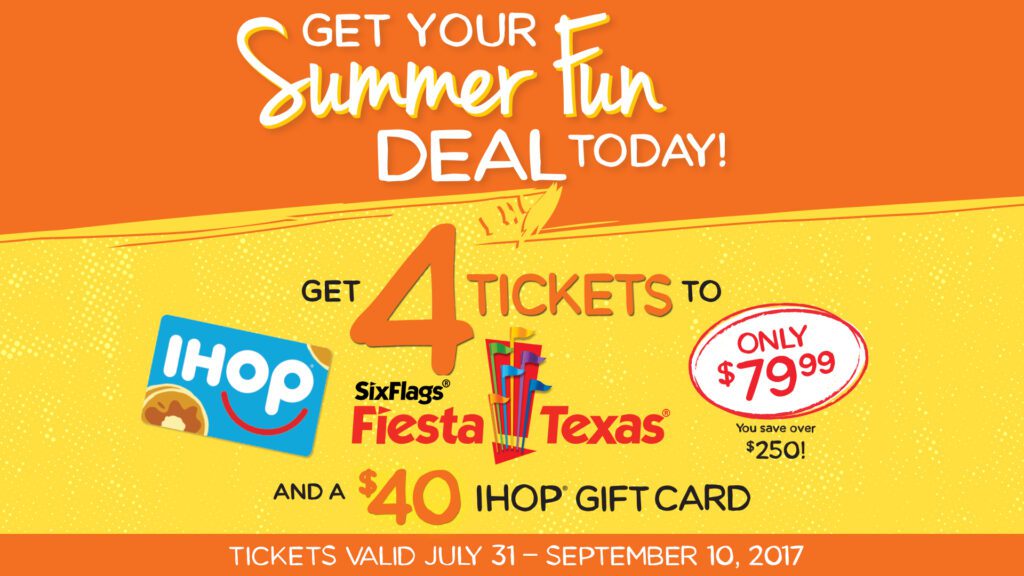 Today is the most exciting day of the summer!
The IHOP Summer 2017 Fun Deal with Six Flags Fiesta Texas is in full swing and we're sure you can't wait to get your hands on this amazing deal.
Visit any participating IHOP, and for just $79.99 you can get 4 tickets to Six Flags Fiesta Texas and a $40 gift card to IHOP.  That's right, for just the price of one regular admission ticket to Fiesta Texas you get 4 tickets into the park AND a $40 gift card to IHOP. It's an unbelievable deal and the perfect way to have the most fun filled summer. See store for details.
Fuel up the family with a delicious breakfast at IHOP and then head over to Fiesta Texas to experience all the thrills the park has to offer. Be sure to experience the all new Thunder Rapids water coaster. It's the largest in the world!
About The PM Group: The PM Group was founded in 1988. Over the past 30 years, the agency has continued to grow and is currently listed as San Antonio's Largest Advertising Agency by the San Antonio Business Journal. The PM Group's client roster spans numerous industries including automotive, CPG, entertainment and sports marketing, legal, business services, non-profit, real estate and fitness. In addition, the agency hosts an annual Charity Gala every February that to date has raised over $2.5 million for local San Antonio area non-profit organizations in the last 15 years!  It is our way of giving back to the community that we so humbly serve.