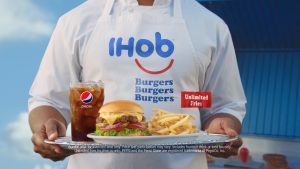 In case you haven't heard…
On June 4th, 2018, world famous pancake house and breakfast mogul IHOP did something unexpected. They changed their name. IHOP first made the announcement over Twitter that the franchise was flipping their "P" upside down, sparking weeks of speculation as to what the new "b" could stand for. Finally, on June 11th IHOP corporate revealed in an instantly viral tweet that the new "b" in IHOb, in fact, stood for burgers, shocking consumers worldwide. Led by a New York City-based creative agency, the International House of Pancakes set its sights on burgers, doubling down with a temporary name change to boost awareness for their latest campaign.
Big risk…
In a move many considered controversial, IHOP changed their logo, and with it, their primary focus from breakfast foods like pancakes to burgers. Numerous burger joints and big names in fast food took to the keyboards to respond to IHOb's new identity.
Big reward.
Following the announcement of IHOP's name change to IHOb, online mentions of the IHOP brand soared 6,477% in 24-hours. In the first week after the declaration, the hashtags #IHOP and #IHOb collectively accumulated more than 297 million impressions.
The house is back on top
Previous to the campaign, IHOP had low awareness online and over social media. Their mentions were wading through a major slump while their brand importance struggled for attention over local brunch spots and other brands like Denny's. However, since the beginning of the campaign, IHOP's searches, impressions, and social media attention have reached the highest peak since 2015 (ADWEEK). This serves as a tasty reminder that the smiling blue sign could mean a lot more for families than just breakfast food on a budget.
All publicity is good publicity
Regardless of the backlash, frustration, and anger generated by some brands and users, a good campaign brings awareness to the business and increases sales. IHOP restaurants around the nation have been increasingly busy, as families, millennials, and traditional customers alike have swarmed to experience the burger buzz. From an advertising perspective, it's hard to argue that this move was anything less than genius. In just a few weeks IHOP became the most relevant and discussed name in food, overnight. From one results-driven marketing agency to another, we have to tip our hat to that.
Real South Texas results
When partnering with national brands, our job at The PM Group is to perpetuate national messaging to make sure it resonates with audiences in our markets and counts for real conversions. At the end of the day, our primary focus has always been to maximize awareness locally and to effect positive sales for our clients.
We're proud to announce that thanks to a brilliant national campaign, and our consistent boots-on-the-ground local marketing, our Texas franchise markets were some of the most successful IHOP locations in the nation. Although the new Ultimate Steakburgers increased IHOP buzz nationwide, San Antonio and South Texas saw traffic increases and sales results. Utilizing our agency's local media clout and strategic ad placement, The PM Group helped guarantee that the IHOb announcement would lead to real results.
Conclusion
Although some consumers feared that their favorite pancake house would be permanently altered, the move was always intended to be promotional and temporary. Now that IHOP has officially changed its name back from IHOb, the brand is tasked with a balancing act.
Can IHOP continue to impress at lunch and dinner with their burgers while serving up delicious breakfast and pancakes as usual? Only time will tell, but with so many convenient locations here in San Antonio and South Texas, IHOP is well worth a visit. If you haven't already, head over to IHOP and try their new Steakburgers. They are quite delicious!
About The PM Group: The PM Group was founded in 1988. Over the past 30 years, the agency has continued to grow and is currently listed as San Antonio's Largest Advertising Agency by the San Antonio Business Journal. The PM Group's client roster spans numerous industries including automotive, CPG, entertainment and sports marketing, legal, business services, non-profit, real estate and fitness. In addition, the agency hosts an annual Charity Gala every February that to date has raised over $3 million for local San Antonio area non-profit organizations in the last 15 years! It is our way of giving back to the community that we so humbly serve.