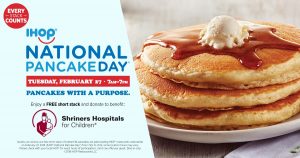 We hope you're hungry! Tuesday, February 27th (7AM – 7PM) is National Pancake Day at IHOP! A tradition lasting thirteen years and counting, The PM Group assisted our local IHOP franchisee. IHOP locations in San Antonio, Corpus Christi, Harlingen, Laredo, Sherman, and Tulsa are helping to promote this delicious national day of pancakes and donations as part of IHOP's larger 60 Days of Giving campaign. This 60 Days of Giving campaign is a nod to the brand's 60th anniversary. As the brand's flagship charitable endeavor, all proceeds help children with illnesses and life-threatening diseases.
IHOP® restaurants across the nation will happily offer each guest a free short stack of its world-famous buttermilk pancakes. In return, IHOP asks (but doesn't require) that customers donate to Shriners Hospitals for Children to help children get the care they need without financial burden to their families. This year, IHOP has raised the bar with an ambitious goal of $5 million for children's charities and has raised close to $30 million year-to-date nation-wide.
Since the inception of National Pancake Day in 2006, IHOP has given away more than 22 million pancakes! Now that's one big stack! Area IHOP restaurants and The PM Group are honored to continue to support this incredible movement.
Even if you can't make it out for National Pancake Day, visit a local San Antonio, Corpus Christi, Harlingen, Laredo, Sherman or Tulsa IHOP! With prices so low, a small stack of pancakes is basically free every day!
For more information about Shriners Hospitals for Children visit their website.
About The PM Group: The PM Group was founded in 1988. Over the past 30 years, the agency has continued to grow and is currently listed as San Antonio's Largest Advertising Agency by the San Antonio Business Journal. The PM Group's client roster spans numerous industries including automotive, CPG, entertainment and sports marketing, legal, business services, non-profit, real estate and fitness. In addition, the agency hosts an annual Charity Gala every February that to date has raised over $2.5 million for local San Antonio area non-profit organizations in the last 15 years! It is our way of giving back to the community that we so humbly serve.