Experiential Marketing gives brands the opportunities to engage consumers in a memorable experience in order to grab their attention, especially in the age of social media. Online E-commerce has contributed to the steady decline of foot traffic through brick-and-mortar stores as consumers choose online convenience over in-person shopping experiences especially as we recognize how the pandemic adjusted consumer habits and mindsets. Due to the shift in consumer purchasing habits, brands are getting more strategic and are evaluating the nuances of this strategy as they entice customers into their stores by having them interact with their brand through activations and experiential marketing.
Create Positive Experiences
If you've ever been to a grocery store you have probably encountered a brand activation. This occurs most frequently with free samples of foods and drinks. Brands decide to launch a new product, or re-launch marketing of an old one, and activate consumers in a store where their product is purchased. Activations draw in customers by allowing them the opportunity to try before they buy. It also furthers brand awareness with a positive experience. Even if the activation doesn't yield high numbers of conversions, customers are now more familiar with the brand since their "value is activated or realized by the consumers."  The consumer is now able to make a connection and leave with a clear impression of the brand.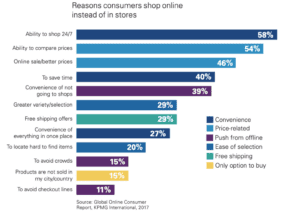 Image Source: Global Online Consumer Report, KMPG International, 2017
Marketing activations sometimes offer a coupon or bundled deal, such as a BOGO or discount offer to incentivize consumers to purchase the product on the spot.  Consumers are more likely to make an impulsive purchase decision if they try it first. In fact, according to V12, 49% of consumers say, "not being able to touch, feel or try a product is one of their least favorite aspects of online shopping". Most companies will go the extra step by making a display of products for purchase at their sample table. This makes it harder for customers to say no when they don't have to search the store for it.
Turn Consumers into Fans
Experiential Marketing, also known as event marketing, live marketing or participation marketing, is similar to brand activation but takes the consumer engagement to the next level.  Brands set up experiences that influencers can take part of and share with their followers. Influencer or not, social media users want to have creative content and posts that will generate a lot of likes. In turn, consumers create a buzz and generate free publicity for the brand by posting and sharing their experience. Companies are able to develop brand loyalty through the relationship they build with their customer base through these experiences.
Zappos – Pay With A Cupcake
#PayWithACupcake was a simple, low-budget stunt done in Austin, Texas with the goal to heap as much attention as possible onto the Zappos.com brand.
As our culture heads deeper into the digital age these tangible experiences are critical, and the online dialogue backing up the experiences is even more so. After all, data shows that 49% of people attending these experiential events create mobile video that is then posted online making hashtags a critical aspect of a campaign to capture information about how the public feels about the product and what the brand's ideal consumer really looks like.
Make Learning About Your Products Fun
A successful example of experiential marketing is German sporting equipment company, Globetrotter, which specializes in winter jackets for extremely cold weather conditions. Globetrotter understands that winter coats are expensive and require a lot of decision making for consumers, which is why they allow customers to try on winter jackets and sit in the store's freezer chamber (which drops to as low as -30 degrees). This experience shows consumers the quality and value of their products and how they will serve them once they leave the store to brace the cold.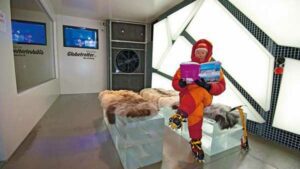 Image Source: Zipwolf
Not only does this ensure the brand's marketing efforts are more successful by allowing you to try before you buy, it gives people a reason to shop at the store and interact with the brand in a more personal way. Consumers line up to try on a jacket and enter their freezing chamber as the brand provides engaging social content as well as an endorsement for the brand itself. This kind of experiential marketing gives shoppers a reason to visit the store and potentially purchase a Globetrotter coat while providing a memorable experience they want to share with their family, friends and followers. If executed properly, experiential marketing is a win-win, creating buzz for the brand while also supplying consumers with one-of-a kind experiences that involves emotions.
An Inside Look at Refinery29's 29Rooms
29Rooms is an interactive art exhibit, and fun house for adults.
For several years, lifestyle brand, Refinery29 has held what they call their 29Rooms – an experience that allows attendees to, as they say walk through, "an interactive funhouse of style, culture, & technology". Each of the 29 rooms is individually branded by companies like Dunkin' Donuts, Cadillac, and Dyson. With a theme surrounding each year's event, the brands involved can create rooms that consumers interact in, take photos, and share their experience of to all in all create an extremely unique interactive activation.
Connect Consumers with Your Brand Values
One World: Together at Home
We're asking you to come together as a global community to address the current #COVID19 crisis. One World: #TogetherAtHome is a moment of unity to support @WHO
These experiential marketing campaigns don't have to always include a direct experience with a product or service; they could truly be a positive experience to improve overall brand recognition and approval. Pepsi hosted an event like this when they held a virtual concert in April 2020 to support front-line health workers during the height of the pandemic. The "One World All Together" concert was viewed by 20 million people and even though they couldn't personally send a can of Pepsi to each attendee, their consumer relationship still saw a positive increase and stronger emotional connection with consumers.
Local Brands Using Experiential Marketing in Texas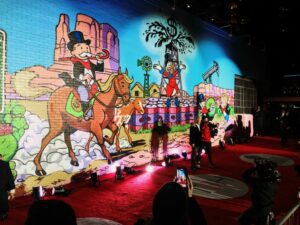 In October of 2019, our client Thomas J. Henry with the help of our agency and sister agency, Noisy Trumpet hosted Austin Elevates, an immersive art and music experience in Austin, Texas. The two-day event began with a new mural unveiling on 6th street by internationally renowned artist Alec Monopoly, followed by a private performance by 'G-Eazy.' Day 2 held a special benefit concert at the Austin360 Amphitheatre featuring performances by global music superstars 'KYGO' and 'Daddy Yankee.' All admission was free to the public and all proceeds from on-site sales benefited Austin-area nonprofit organizations SAFE Alliance, Superhero Kids and St. David's Foundation Community Fund. Like Pepsi's event, although Thomas J. Henry wasn't providing his standard legal services, he was providing an experience for Austin natives to enjoy and increase his brand awareness and increase brand reputation.
With 85% of consumers saying they are more likely to buy after participating in experiences and events, experiential marketing is holding its ground as a tactic that is creative, outside of the box, and effective for brands to take advantage of. Remember, it's all about breaking through the noise and giving bystanders a reason to stop and interact with your brand. 2020 really changed what experiential marketing could be but as the country and world start to reopen and return to some type of "normalcy" we see brands ready to reconnect in person with consumers who are itching to get back out and experience the outside world. By creating a positive and unique experience with your brand, you can convert your consumers into evangelists, while they spread the word for you. If you are looking for a branding agency to take your image to new heights, contact us today!
About The PM Group: The PM Group was founded in 1988. For over 33 years, the agency has continued to grow and is San Antonio's largest marketing and advertising agency. The PM Group's client roster spans numerous industries including home services, automotive, CPG, entertainment and sports marketing, legal, business services, non-profits, real estate and fitness. For two consecutive years now, the Agency has set annual revenue records with the addition of six new clients and through the continued success of our existing clients. Additionally, the agency hosts their annual Charity Gala that to date has raised millions of dollars for local San Antonio area non-profit organizations in the last 15 years! In 2020 alone, the Agency donated over $1,050,000 to local non-profits. It is our way of giving back to the community that we so humbly serve.