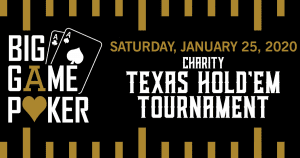 The PM Group is excited to host its Charity Texas Hold'em Tournament of 2020 Saturday, January 25th at the Crown Ridge Banquet Hall.   Over 250 players are expected to compete for the grand prize $10,000 entry to the 2020 WSOP Main Event or tickets for 2 to the Big Game in Miami on Sunday, February 2, 2020!  To enter, register at www.texasholdemsa.com by January 19th and save $75 with early bird pricing.
The tournament will donate all net proceeds to area charities.  San Antonio Sports' i play! afterschool program, SA YES, CC YES, and Austin YES will be the beneficiaries of this event but they won't be the only big winners of the day!  There will be a silent auction, entry prizes, and tournament prizes detailed below.
Final Table Prizes:
Grand Prize – $10,000 entry to 2020 WSOP Main Event OR tickets for 2 to the BIG GAME in Miami on February 2, 2020
2nd Place – $5,000 AMEX Gift Card
3rd Place – $2,500 AMEX Gift Card
4th – 6th Place – $1,000 AMEX Gift Card
7th – 9th Place – $500 AMEX Gift Card
10th – 18th Place – Free entry into the May 16, 2020, Charity Texas Hold'em Tournament
Additional Tournament Prizes:
Top Woman Finisher – $1,000 AMEX Gift Card
Top Senior Finisher (Age 50+) – $1,000 AMEX Gift Card
Top Super Senior Finisher (Age 60+) – $1,000 AMEX Gift Card
Thanks to the support of all of our players, these charitable poker tournaments have been able to raise $365,000 for local charities over the last 3 years. To find out more and register to play, visit texasholdemsa.com.
About San Antonio Sports: Since 1984, San Antonio Sports has transformed our community through the power of sport. By providing programs and access to sports that encourage children and their families to live active and healthy lives, they have recognized the link between healthy bodies and healthy minds. They are in 290 local elementary schools providing in-school and afterschool programs to teach children values like integrity, excellence, leadership, and teamwork that not only help them thrive as children but help them be successful throughout the rest of their lives.
About SA YES: Since 1998, SA YES has been distributing school supplies and classroom grants to local students at Title 1 Elementary schools. By providing each student with their own school supply kit, they hope the act serves as a reminder that each student is important to our community and the importance of being prepared to learn and grow. In 2019, SA YES was able to provide school supply kits to 22,000 students in San Antonio.
About CC YES: CC YES was an expansion project that began in 2017 as a branch of SA YES. In 2019, CC YES distributed over 7,500 school supply kits to students across Corpus Christi. Through educational outreach of free school supplies and classroom grants, CC YES hopes to provide the encouragement and tools students need to have a successful school year.
About Austin YES: To help more communities in South Texas, SA YES expanded by opening an Austin branch in 2018. Their mission continues to be to support low-income students in Austin through educational outreach of free school supplies and technology grants. In their inaugural year, Austin YES supported 7,500 local students with the basic school supplies they needed to start the year off right – confident and motivated.
About The PM Group: The PM Group was founded in 1988. For over 31 years, the agency has continued to grow and is San Antonio's largest advertising agency. The PM Group's client roster spans numerous industries including automotive, CPG, entertainment and sports marketing, legal, business services, non-profit, real estate and fitness. In addition, the agency hosts an annual Charity Gala that to date has raised millions of dollars for local San Antonio area nonprofit organizations in the last 15 years! In the past 10 years, The PM Group has raised both directly and indirectly over $12 million for these charities. It is our way of giving back to the community that we so humbly serve.