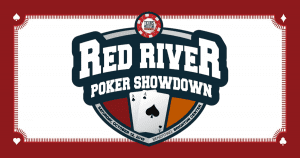 Saturday, October 12th, The PM Group will host the third Texas Hold'em charitable poker tournament benefiting local charities in 2019. This time around, we're calling it the Red River Poker Showdown. Knowing just how important the Oklahoma vs Texas game is to attending players, we'll be showing the game as the tournament takes place, so no one misses any of the action.
All proceeds raised at the Red River Poker Showdown will benefit Brighton Center, SA YES, CC YES, Austin YES, and Kindness Daily. Each of these organizations support the individuals they service and help lift up our community as a whole.
Registration opens at 9:00am and the tournament begins at 10:30am. Free meals and premium drinks will be provided. There will also be over $40,000 in combined tournament prizes. Final table prizes include a grand prize $10,000 entry to the 2020 WSOP No-Limit Hold'em Main Event World Championship PLUS 2 Southwest Airlines tickets to Las Vegas and 3 nights at the Bellagio Hotel. Second place receives a $5,000 American Express Gift Card and third place will receive $1,000 American Express Gift Card. Top Tournament prize categories include top woman finisher and top senior finisher plus bonus prizes during the tournament.
There's still time to register and take part in a tournament that gives you a chance to win big while giving these charities the funds necessary to continue their impactful work.
A big thank you to all of our Red River Poker Showdown sponsors: KCWX, San Antonio Express-News, Spurs Sports and Entertainment, Spectrum Reach, KRIS, KZTV, Univision 41, KSCC, KSAT, and News 4 San Antonio.
About Brighton Center: Brighton Center provides developmental and education services to children of all abilities. Through a holistic, family-centered approach, they offer enrichment and development through an inclusive early childhood education program, in home therapy services, counseling, case management and special education support and services. They offer families hope, caring, understanding, and education that not only uplifts the child but uplifts the parents as they learn how to best help their child overcome hurdles and succeed.
About SA YES: Since 1998, SA YES has been distributing school supplies and classroom grants to local students at Title 1 Elementary schools. By providing each student with their own school supply kit, they hope the act serves as a reminder that each student is important to our community and the importance of being prepared to learn and grow. In 2019, SA YES was able to provide school supply kits to 22,000 students in San Antonio.
About CC YES: CC YES was an expansion project that began in 2017 as a branch of SA YES. In 2019, CC YES distributed over 7,500 school supply kits to students across Corpus Christi. Through educational outreach of free school supplies and classroom grants, CC YES hopes to provide the encouragement and tools students need to have a successful school year.
About Austin YES: To help more communities in South Texas, SA YES expanded by opening an Austin branch in 2018. Their mission continues to be to support low-income students in Austin through educational outreach of free school supplies and technology grants. In their inaugural year, Austin YES supported 7,500 local students with the basic school supplies they needed to start the year off right – confident and motivated.
About Kindness Daily: Kindness Daily provides advocacy, resources, and education to address cyber and emotional abuse of young people in our community. By promoting the message, "be kind everyday", they hope to encourage victims to speak up against their abusers and put an end to emotional abuse.
About The PM Group: The PM Group was founded in 1988. For over 30 years, the agency has continued to grow and is San Antonio's largest advertising agency. The PM Group's client roster spans numerous industries including automotive, CPG, entertainment and sports marketing, legal, business services, non-profit, real estate and fitness. In addition, the agency hosts an annual Charity Gala that to date has raised millions of dollars for local San Antonio area non-profit organizations in the last 15 years! In the past 5 years, The PM Group has raised both directly and indirectly over $3.5 million for these charities. It is our way of giving back to the community that we so humbly serve.