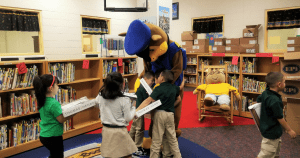 San Antonio Youth Educational Support (SA YES) began as one big idea in the 1990's. The local non-profit has since grown into the largest single distributor of school supplies in South Texas – now serving more than 35,000 Title 1 elementary school students across San Antonio and Corpus Christi, Texas with service in Austin coming soon.

A believer and partner in SA YES from day one, Bob Wills expanded his role when he became president of the board in 2015. As one of The PM Group's largest non-profit ventures, SA YES has helped improve the lives of thousands of Title 1 elementary students by helping them feel excited and prepared for school.

The immediate benefit of providing school supplies is obvious. For SA YES Executive Director Danielle Gunter and Director of Development Melody Mejia, the real reward is, "seeing all of the smiles." Danielle added, "The fact that we can help local children to feel confident and start the school year off right means everything to us."

It's no easy task maintaining a non-profit. Danielle and Melody help maintain the large-scale operation by facilitating donations through local events and sponsors. The duo leads the way by organizing the annual events that support SA YES. The majority of the funding for the non-profit comes from the Drive Away 4 Education annual truck raffle; the Taste of Education Dinner; the annual SA YES Golf Classic; and The PM Group's Kings and Queens of Good Hearts Fun-Raiser.

When August comes around, Danielle and Melody lead the massive operation of organizing and distributing thousands of school supply kits to San Antonio Title 1 elementary students. During the Back-to-Basics Project, SA YES makes the massive school supply distribution more exciting for the students with special guest appearances.

"The students are excited. The moment they realize there's a whole city supporting them can be life-changing. That's why we do it," said Melody. Tons of characters and pop-culture icons have attended to dish out high-fives and hugs. Some of the past visitors include The Minions, Chase from Paw Patrol, Iron Man and War Machine from Marvel, and Dora The Explorer. These fictional characters join local leaders such as UTSA athletes, SAPD firefighters, SAPD police officers, as well as Thomas J Henry and his family in personally distributing school supply kits and wishing the students a successful school year.

Although Danielle and Melody are quite busy, their central goal for the blooming non-profit is to help more Title 1 elementary students across the state for years to come. The PM Group is honored and proud to partner with SA YES to promote their mission. Numerous PM Group employees volunteer every August to dress up as characters, help load delivery trucks, and distribute supplies to students. Additionally, some PM Group employees serve as members of the SA YES board.

In our agency, we like to say, "our best work is for the community." Supporting SA YES is an example of how The PM Group has embodied the spirit of giving for over 30 years to help enhance the community around us. We're confident that we couldn't make much of an impact without the hard work of Danielle and Melody! Thanks again for all that you do!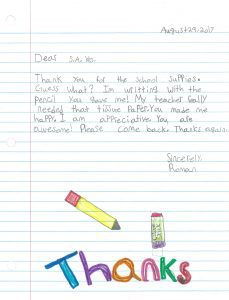 About The PM Group: The PM Group was founded in 1988. Over the past 30 years, the agency has continued to grow and is currently listed as San Antonio's Largest Advertising Agency by the San Antonio Business Journal. The PM Group's client roster spans numerous industries including automotive, CPG, entertainment and sports marketing, legal, business services, non-profit, real estate and fitness. In addition, the agency hosts an annual Charity Gala every February that to date has raised over $3 million for local San Antonio area non-profit organizations in the last 15 years! It is our way of giving back to the community that we so humbly serve.