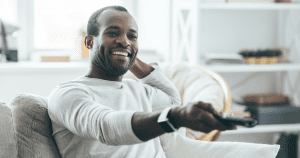 The rise of media streaming companies like Netflix, Hulu, and Amazon Prime, have caused many to fear that the best days of the traditional television advertising model are over. However, as industry experts have studied trends and investigated further into this phenomenon, it appears that traditional television advertising is not in decline. In fact, it's quite the opposite.
Advertising Week contributor and TV Squared CTO Kevin O'Reilly recently wrote an article publishing by Huffington Post expanding upon the optimistic outlook of TV for 2018 and beyond. O'Reilly went on to explain why the "doomsday rumors" should be silenced, adding that 2018 will actually be a great year for TV. Experts are excited about unexpectedly high ad sales and new innovations like short form (6-second) ads for quick and repetitive branding as well as better monitoring and targeting from TV ads.
Whether your scope is national or local, it seems that there is no better time than the present to invest in television advertising. With ad spend up, and some major players like Proctor & Gamble actually reducing their digital budgets, it seems there is still money to be made and customers to be earned on television. In addition to exclusive shows and programming that haven't made their way to digital streaming avenues, TV is still the king of sporting events and live broadcasts. And yet, some households will still elect to subscribe to both Netflix and cable. For the complete rundown of the health of TV in 2018 see Kevin O'Reilly's HuffPost Business article.
The PM Group has always seen the value of television advertising first hand. It's been both exciting and humbling to help our clients grow their businesses on the air. Sales increase and brand awareness builds as our clients have gotten their messages out to the public via television. Are you ready to reach thousands of new customers?
About The PM Group: The PM Group was founded in 1988. Over the past 30 years, the agency has continued to grow and is currently listed as San Antonio's Largest Advertising Agency by the San Antonio Business Journal. The PM Group's client roster spans numerous industries including automotive, CPG, entertainment and sports marketing, legal, business services, non-profit, real estate and fitness. In addition, the agency hosts an annual Charity Gala every February that to date has raised over $2.5 million for local San Antonio area non-profit organizations in the last 15 years! It is our way of giving back to the community that we so humbly serve.