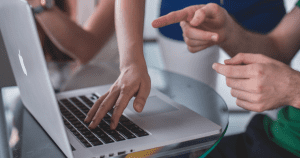 It's no secret that large streaming platforms like YouTube and Hulu capitalize on advertising placement, but at what point do these streaming services place a limit on ads?  YouTube has been using ads for some time, but recently integrated the option of non-skippable ads into their platform. This may change the landscape for online video streaming by forcing consumers to watch more ads while appealing to advertisers who won't be skipped at :05 seconds.
The Origins of Ad Skipping
It all began with the birth of the glorified VCR – when people would record their favorite shows and skip through all the commercials. This was the first time viewers had the ability to completely ignore advertisers. Year after year, there became even more ways to ignore ads with the introduction of streaming services which gave consumers a choice on what type of service they would pay for and how many ads they would be willing to watch. Would they choose something like Hulu's free subscription and watch a small number of ads or would they decide to pay for Netflix and not have to watch a single ad?
Shackles of Gold
Content creators make their money on advertisements that show before and during their videos, but now they must first be cleared by YouTube to be sure their content is "advertiser friendly". This made content creators more conscious than ever, making sure they don't use inappropriate language or present suggestive topics. In turn, this has given more comfort and power to advertisers who, instead of being randomly placed on any video, are able to be more selective and choose which videos they want their brands associated with. This often leads to more selective targeting of consumers and the higher chance of their ads not being skipped if seen by the right people. It also means that if a consumer is watching an ad that is not skippable, they will be more likely to have a positive viewing experience if the ad is relatable to them.
The reason some consumers left traditional television was due to ambush advertising; people wanted to be able to control when and how often they could see ads by having the power to skip through them. Now that YouTube has over one billion active users and has implemented the option of non-skippable ads, there is no doubt this will generate a positive outcome for advertisers on YouTube. The question is: how long will it last before the next disruption comes along and places the power back in the hands of consumers? To learn more about non-skippable ads read the full Hubspot article..
About The PM Group: The PM Group was founded in 1988. Over the past 30 years, the agency has continued to grow and is currently listed as San Antonio's Largest Advertising Agency by the San Antonio Business Journal. The PM Group's client roster spans numerous industries including automotive, CPG, entertainment and sports marketing, legal, business services, non-profit, real estate and fitness. In addition, the agency hosts an annual Charity Gala every February that to date has raised over $3 million for local San Antonio area non-profit organizations in the last 15 years! It is our way of giving back to the community that we so humbly serve.