As digital advertising methods proliferate and morph, companies funnel more money into television advertising to reach viewers who spend 22-36 hours watching TV every week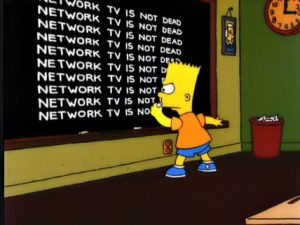 Despite what the advertising industry rumblings might lead us to believe over the past few years citing the decline of television as we know it, television advertising is instead alive, well, and producing solid results. In a recent MarketShare study that analyzed advertising performance across industry and media outlets like television, online display, paid search, print and radio advertising, MarketShare found that TV has the highest efficiency at achieving key performance indicators, or KPIs, like sales and new accounts. When comparing performance at similar spending levels, TV averaged four times the sales lift of digital.
In fact, 2016 could wind up being one of the most profitable years ever for TV advertising, thanks in part to Super Bowl 50–which set the stage with its $4.8 million, 30-second commercials. According to Advertising Age, total ad spending on commercials in the Super Bowl from 1967 through 2016 (and adjusted for inflation) was $5.9 billion.
Super Bowl 50's estimated share of 2016 U.S. broadcast network TV ad spending was a record 2.4%, double the level in 2010 (1.2%), four times the level in 1995 (0.6%), and six times the level in 1990 (0.4%). The big game followed in the footsteps of a very strong fourth quarter for TV ad spending, which, according to Standard Media Index, saw overall TV spending increase by 9 percent at the end of 2015. October 2015 was broadcast's best advertising month since January 2014–yet one more indicator of TV advertising's continued and growing prowess.
There is however, no denying that instead of the decline of TV, the conversation should be reframed that we are instead experiencing the continuous evolution of TV and viewership – as is the nature of life. Even with the many different screens and delivery options at their avail, viewers still enjoy television viewing–and the ads that accompany with it. According to The Wall Street Journal's If You Think TV Is Dead, Maybe You're Measuring Wrong, adults of all ages spend more time with TV than with any other platform. Citing Nielsen measurements, the article points out that adults spend about 36 hours per week watching TV, while they spend about seven hours on their smartphones. For 18-34 year-olds, almost 22 hours is spent viewing TV while about 10 hours is spent on smartphones.
When combined, these numbers and realities paint the picture of a TV advertising environment that's vibrant, effective, and clearly profitable. And while the medium has long been bashed for being "expensive"–a claim that grew as cheaper digital options entered the picture–we've seen a strong resurgence of interest in TV across many different types of advertisers. So while banner and display ads may be less expensive to initially create and publish, the average click-through rate of such ads across all formats and placements is still a very low 0.06 percent. Also, 54 percent of users don't click banner ads because they don't trust them, and 18- to 34-year-olds are far more likely to ignore online ads, such as banners and those on social media and search engines, compared to traditional TV, radio, and newspaper ads.
As Rich Lehrfeld, senior VP-global brand marketing and communications at American Express stated, "TV as a traditional medium is still important. When we run a heavy TV schedule, we see a lift in sales and product awareness. We need to run two weeks of digital to get the reach of one day of broadcast."
Now, even though TV advertising is doing a great job of holding its own, that doesn't mean it doesn't play well with other, more "hip" and modern advertising methods and you truly need an omni-channel campaign to be fully effective across all platforms. So while it's still the go-to player for companies across many different business segments, TV integrates well and lifts the advertising efforts for all other channels such as online video, programmatic ads, social, mobile, and so forth.
As a device-agnostic platform, for example, TV gives advertisers the opportunity to leverage over the top content (i.e., OTT refers to delivery of audio, video, and other media over the Internet without the involvement of a multiple-system operator in the control or distribution of the content) and other opportunities to reach their audiences across dozens of different platforms (e.g., cable, network, and independents like Netflix and Hulu).
The current presidential campaign is a testament to the power of television as a message and content delivery mechanism. According to Nielsen, voting adults spend an average of 447 minutes per day watching TV, 162 minutes listening to the radio, and just 14 minutes and 25 minutes viewing video on their phones and tablets (respectively).
According to the New York Times' Derek Willis, nothing will displace television as the centerpiece of presidential campaign media strategy in 2016. "Television-watching adults spent an average of 7.5 hours a day in front of the set during the first three months of [2015]…far more time than people spend on their personal computers, smartphones, and tablets. And older Americans — among the most dependable voters — watch more television than their younger counterparts," writes Willis in Why Television Is Still King for Campaign Spending.
There's no denying that TV is still the best advertising investment out there but you still need to integrate a campaign across other platforms (web, social, mobile, etc.)– namely because response isn't always generated directly from TV anymore–but by using solid analytics you can easily detect the "halo effect" that television has on the entire campaign. So while devices proliferate and the media environment becomes increasingly cluttered, those 36 hours that adults spend watching TV per week (and 22 hours for millennials), don't lie- and neither does the return on investment that advertisers continue to reap from their investments in media and creative.
Courtesy: AdRANTs