Thank you never feels like enough when we can make such a positive impact on community nonprofits like what we have been able to do already this year!  
Here at The PM Group offices, we presented San Antonio Sports and SA YES with the funds we raised to help them continue their missions in our community. Both organizations work hard to support youth in San Antonio with needed school supplies for kids to be productive in school and teaching them empowering and foundational lessons through the power of sport.
The funds were raised at a January 16th Charity Texas Hold'em Poker Tournament benefitting both organizations.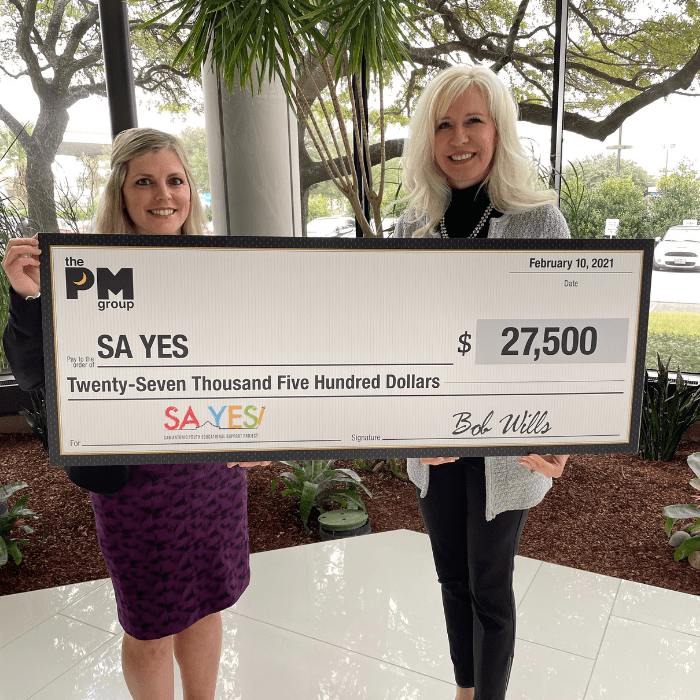 "We are so thankful for the amazing financial support we receive annually from The PM Group's incredible fundraising efforts," stated San Antonio Sports CEO, Russ Bookbinder.
"Our San Antonio-based advertising agency team raised over $1,050,000 in support of area nonprofits that needed our help in 2020. Hopefully, we can top that number in 2021," stated The PM Group's President, Fran Yanity. In addition to San Antonio, the advertising agency has satellite offices in Arizona, Virginia, and Massachusetts.      
More to Come in 2021
The PM Group will be hosting several additional Charity Texas Hold'em Poker Tournaments throughout 2021 and you can help us support local nonprofits. You can register now for the next tournament, the Final Five Charity Poker Showdown, which will be held on Saturday April 3, 2021 at the Crown Ridge Banquet Hall. Visit texasholdemsa.com to learn more.
About The PM Group: The PM Group was founded in 1988. For over 33 years, the agency has continued to grow and is San Antonio's largest advertising agency. The PM Group's client roster spans numerous industries including automotive, CPG, entertainment and sports marketing, legal, business services, non-profits, real estate and fitness. For two consecutive years now, the Agency has set annual revenue records with the addition of six new clients in 2020 and through their ongoing success with our existing clients. Additionally, the agency hosts their annual Charity Gala every year —that to date– has raised millions of dollars for local San Antonio area non-profit organizations in the last 15 years! In 2020 alone, the Agency donated over $1,050,000 to local non-profits. It is our way of giving back to the community that we so humbly serve.