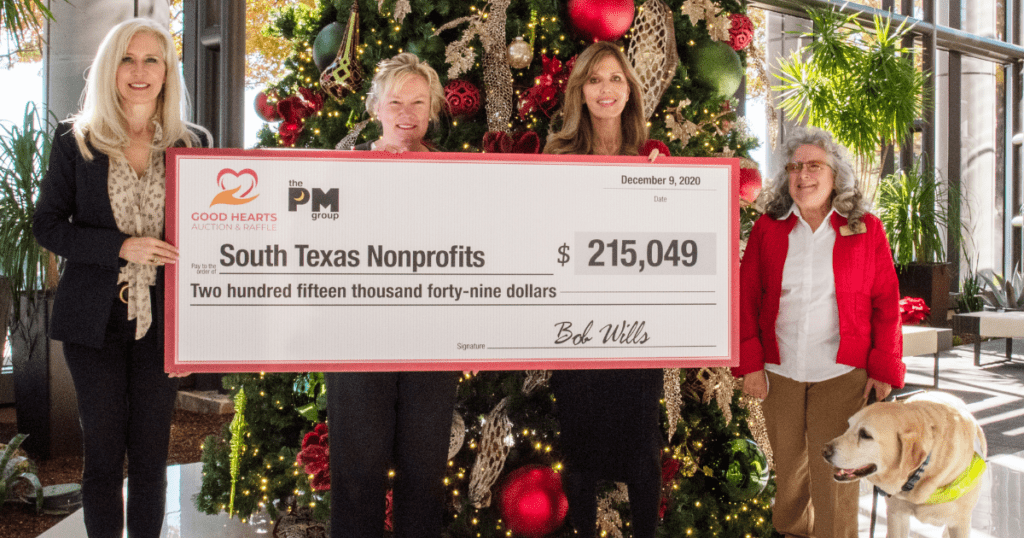 In conjunction with The PM Group's 32rd business anniversary, our agency raised a total of $215,049 in support of eight local nonprofits as a result of our annual Kings and Queens of Good Hearts Fun-raiser, which took place September 14-30, 2020.  In comparison to previous years, the fundraising initiative went virtual in the form of an online auction and raffle.
All proceeds from the online auction and raffle benefited local charities serving education, at-risk children, military, family support services, as well as pet rescue efforts. This year's benefiting organizations included:
Central Catholic High School
God's Dogs Rescue
Guide Dogs of Texas
Respite Care of San Antonio        
 SA YES
The Children's Shelter
Soldiers' Angels
San Antonio Sports
"Over the past 30 years, The PM Group has been fortunate enough to endure industry changes by adapting and developing innovative business models to better serve our clients and community," said The PM Group Founder Bob Wills. "As a result, each year we show our gratitude by supporting nonprofit organizations making a difference in our city – this year was no different. We pivoted and tailored our annual Kings and Queens of Good Hearts Fun-raiser to the current climate, which yielded successful results. Thank you to our sponsors and donors who participated in our annual charitable initiative."
About The PM Group: The PM Group was founded in 1988. For over 32 years, the agency has continued to grow and is San Antonio's largest advertising agency. The PM Group's client roster spans numerous industries including automotive, CPG, entertainment and sports marketing, legal, business services, non-profit, real estate and fitness. In addition, the agency hosts an annual Charity Gala that to date has raised millions of dollars for local San Antonio area non-profit organizations in the last 15 years! In the past 10 years, The PM Group has raised both directly and indirectly over $12 million for these charities. It is our way of giving back to the community that we so humbly serve.