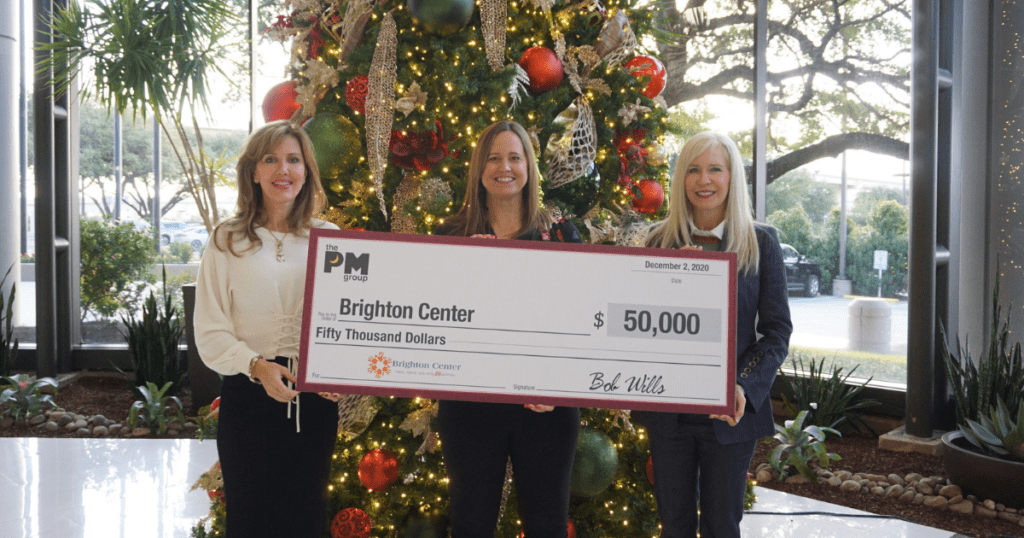 INNOVATIVE FUNDRAISING EFFORTS BY THE PM GROUP BENEFITED NINENON-PROFITS IN 2020
SAN ANTONIO, TX – DEC. 7, 2020 – Despite the COVID challenges in 2020, The PM Group's vision remained clear – their legacy of charitable giving must continue no matter what the circumstances. While this year presented many obstacles for businesses and non-profit organizations alike, including the cancellation of several traditional in-person fundraising initiatives, The PM Group quickly adapted and developed innovative approaches to support many local 501(c)(3) nonprofit organizations.
Crucial services provided by local nonprofits are sustained through the generosity and support of community donors. This year, annual events Produced & supported by The PM Group, like the Kings and Queens of Hearts Fun-raiser Gala, the SA YES Taste of Education Dinner and Golf Tournament, as well as Charitable Poker Tournaments, were modified to meet social limitations brought on by the pandemic.
Fundraisers and benefiting charities in 2020 included:
SA YES – Drive Away 4 Education Truck Giveaway [Total Raised $317,000]
San Antonio Sports- Hall of Fame Online Raffle and Auction [ Total Raised by PMG $110,000]  
Good Hearts Virtual Fundraiser [Total Raised $215,000]

Central Catholic High School
God's Dogs Rescue

Respite Care of San Antonio        

SA YES
The Children's Shelter
Soldiers' Angels
San Antonio Sports

Charitable Poker Tournaments [Total Raised $225,000]

SA YES
Brighton Center
San Antonio Sports

Merry and Brighton Holiday Online Auction and Raffle [Total Raised $161,000]
In addition to the direct financial support of The PM Group, the agency provided over $350,000 in radio, television and print advertising to local non-profits in 2020.
"With the COVID-19 pandemic limiting or cancelling nearly all live in-person events for area local nonprofits, our agency knew we had to be innovative in how we could continue to raise critical funds for these organizations," said The PM Group Founder Bob Wills. "As a team, our agency team collaborated to develop unique approaches to sustain our charitable efforts and give back to a community of area non-profits making a significant difference in our city every day."
"Charitable giving is a foundational force in our agency. Our entire staff participates in our 'Volunteerism Matters' employee program to support the non-profits that make a major difference in our community," stated Fran Yanity President and Chief Operating Officer.
About The PM Group: The PM Group was founded in 1988. For over 32 years, the agency has continued to grow and is San Antonio's largest advertising agency. The PM Group's client roster spans numerous industries including automotive, CPG, entertainment and sports marketing, legal, business services, non-profit, real estate and fitness. In addition, the agency hosts an annual Charity Gala that to date has raised millions of dollars for local San Antonio area non-profit organizations in the last 15 years! In the past 10 years, The PM Group has raised both directly and indirectly over $12 million for these charities. It is our way of giving back to the community that we so humbly serve.