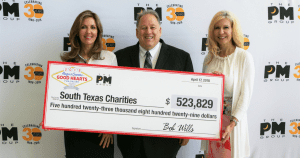 For many years, The PM Group has held the annual Kings and Queens of Good Hearts Fun-Raiser Gala, one of our proudest agency traditions.  Every February, hundreds of charitable clients, vendors, media groups, friends, and family gather together to support local San Antonio non-profits. While branding, marketing and advertising are what we do every day, our best work has always been for our community.

On Saturday, February 17, 2018, The PM Group hosted our largest and most charitable gala to date at the Grand Hyatt. While last year's event raised over $250,000, this year's event proved to be even more successful. As we celebrated our agency's 30th anniversary, our community came together with us to raise over double the amount of the previous year – an unprecedented and amazing accomplishment!

We are incredibly honored to partner with such incredible organizations that make real change in our community. From rescued pets to school supplies for children, successful college students, and healthier San Antonio residents, we want to take a moment to recognize the countless men and women who have dedicated their lives to making these non-profit organizations thrive in supporting and enhancing our community.

Yesterday was a very special day as we brought our benefiting organizations together to recognize their efforts and announce that thanks to the generosity of all who attended the 2018 Kings and Queens of Good Hearts Fun-Raiser Gala we raised a grand total of $523,829.59!

We could not continue to help the following organizations without our community. From the bottom of our hearts, we are so grateful for your support!

Funds Raised Per Category:
CHILD HEALTH AND WELFARE:
Children in Need: $23,023.03
ChildSafe: $71,279.52
The Children's Shelter: $27,183.09
Triumph Over Kid Cancer: $43,509.41
A total of $164,995.04

HEALTH AND FAMILY SERVICES:
American Heart Association: $21,298.93
Guide Dogs of Texas: $34,053.43
San Antonio Sports: $34,939.02
A total of $90,291.38

EDUCATION:
Central Catholic High School: $122,869.02
SA YES: $74,117.76
UTSA Roadrunner Athletic Foundation: $5,180.93
A total of $202,167.70

PET RESCUE:
C.A.R.E.: $18,514.74
God's Dogs: $14,124.17
MMK9: $15,221.82
San Antonio Pets Alive: $18,514.74
A total of $66,375.47

A grand total of

$523,829.59
About The PM Group: The PM Group was founded in 1988. Over the past 30 years, the agency has continued to grow and is currently listed as San Antonio's Largest Advertising Agency by the San Antonio Business Journal. The PM Group's client roster spans numerous industries including automotive, CPG, entertainment and sports marketing, legal, business services, non-profit, real estate and fitness. In addition, the agency hosts an annual Charity Gala every February that to date has raised over $3 million for local San Antonio area non-profit organizations in the last 15 years! It is our way of giving back to the community that we so humbly serve.