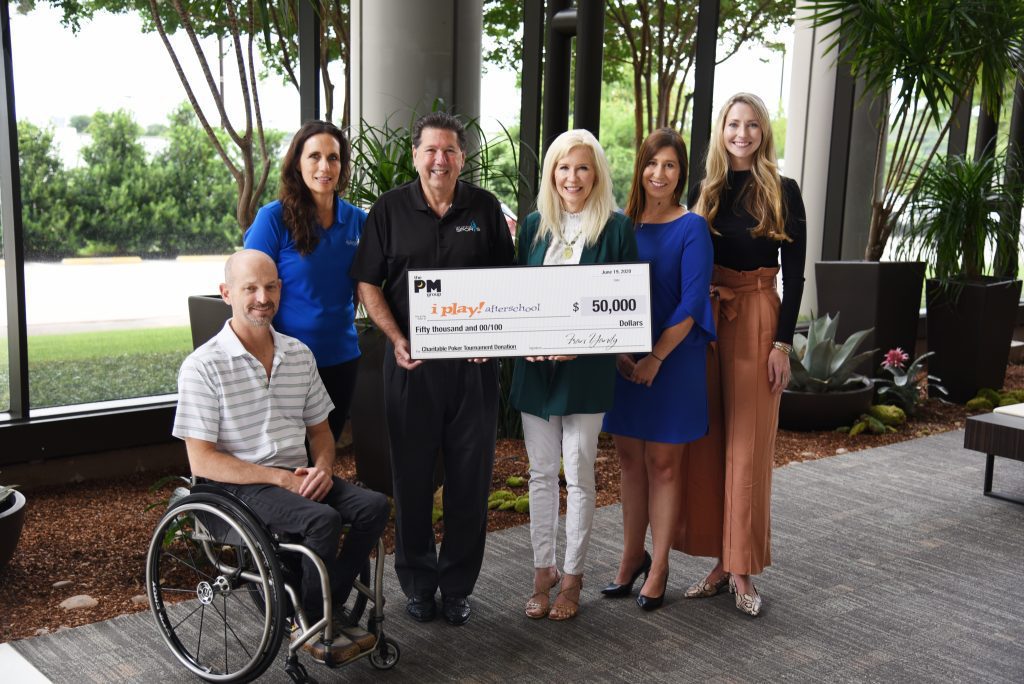 Thanks to the incredible support of our community, The PM Group was honored to present a check in the amount of $50,000 to San Antonio Sports in support of the i play! afterschool program. The funds were raised at The PM Group's latest Texas Hold'em Charity Poker Tournament which took place on January 25, 2020 at Crown Ridge Banquet Hall in San Antonio.
The PM Group's annual Texas Hold'em Charity Poker Tournaments began in 2016 as a fun and competitive way to raise money for area nonprofits. Over the years, the net money raised from the tournament entries, in-game purchases, raffle sales, and silent auction has been donated to nonprofits such as San Antonio Sports, SA YES, Austin YES, CC YES, and Brighton Center.
San Antonio Sports is an organization whose mission is to transform our community through the power of sport by promoting healthy and active lifestyles for children, providing places to play, and offering events that encourage and support their mission. Their i play! afterschool program teaches U.I.L. sport fundamentals after school to inner-city children by providing coaching, equipment, and nutrition as well as character-building lessons and values that promote leadership and success.
"The support and generosity that we have received from The PM Group has made a difference in helping us continue our mission to transform the community through the Power of Sport," said Russ Bookbinder, President and CEO of San Antonio Sports. "Their incredible team stands with us as we provide underserved youth and families in San Antonio access to sports and healthy living programs. We are extremely grateful to Bob, Fran and The PM Group team for all they do."
Since its early days, 32 years ago, one of The PM Group's biggest passions forming its identity as an organization was and still is philanthropic work. "I am proud to continue The PM Group's legacy of giving to such a worthy organization that impacts our community in so many ways through the power of sport," said Fran Yanity, President and COO of The PM Group. The agency looks forward to future Texas Hold'em Charity Poker Tournaments and the positive impact funds raised will have on deserving nonprofit organizations.
About The PM Group: The PM Group was founded in 1988. For over 32 years, the agency has continued to grow and is San Antonio's largest advertising agency. The PM Group's client roster spans numerous industries including automotive, CPG, entertainment and sports marketing, legal, business services, non-profit, real estate and fitness. In addition, the agency hosts an annual Charity Gala that to date has raised millions of dollars for local San Antonio area non-profit organizations in the last 15 years. In the past 10 years, The PM Group has raised both directly and indirectly over $12 million for these charities. It is our way of giving back to the community that we so humbly serve.