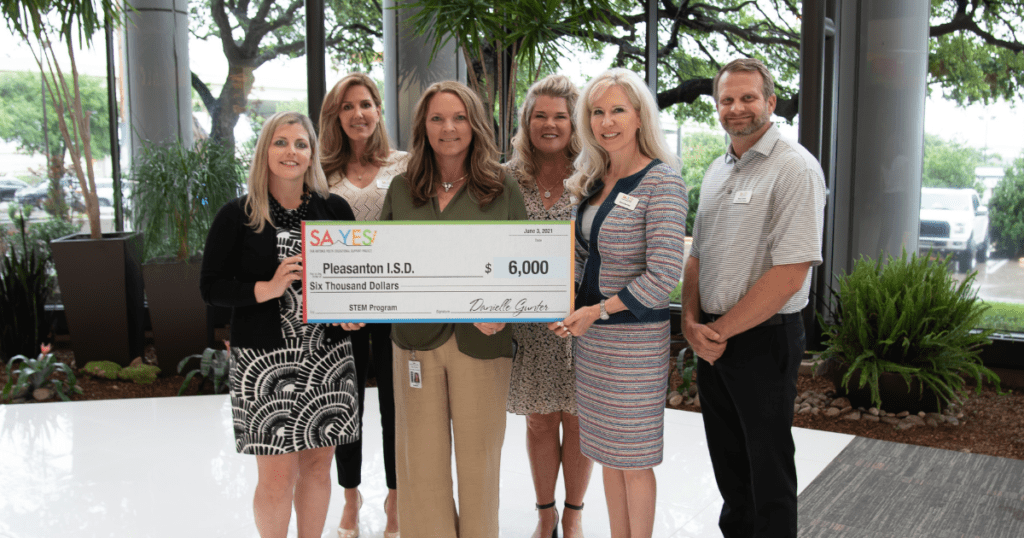 On June 3rd, SA YES presented a STEM grant to Pleasanton ISD in the amount of $6,000. The grant is part of a $15,000 allocation of funds by SA YES to STEM needs at Title 1 schools around the San Antonio area as part of their YES Grant program.
The funds will be used for students in grades 9 through 12 for an introduction to engineering curriculum and supplies. The goal is to create a solid engineering program of study and then focus on adding other STEM programs. With the funding, PISD will be able to purchase a curriculum developed by engineers which helps the staff provide the industry-specific knowledge and skills to the students.
Three PM Group employees were on hand for the check presentation. Peggy Wills, Kathy Schmitt and Fran Yanity also serve on the SA YES Board of Directors.
This latest donation follows a busy season of fundraising for SA YES as well as other YES Grant donations. Earlier in the month, SA YES presented P.A.M. Media Outreach with $4,000 for computers to be used in their program helping inner city youth learn leadership skills.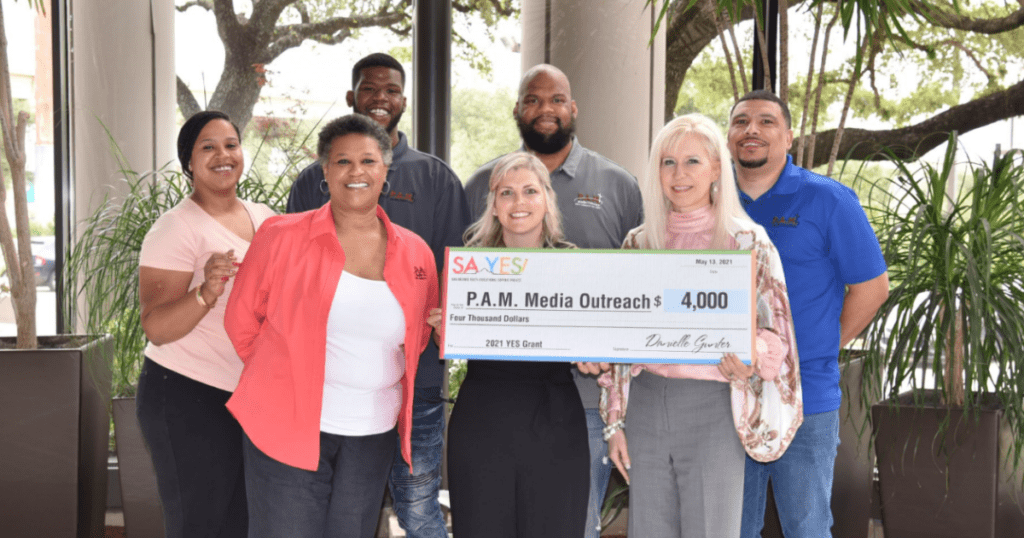 "I am honored to be able to provide Pleasanton ISD and PAM Media Outreach much-needed funds to further their programs and goals to help students," stated Danielle Gunter, Executive Director of SA YES. "STEM is the future and all students should have the resources they need to make strides in this area," continued Gunter.
About The PM Group: The PM Group was founded in 1988. For over 33 years, the agency has continued to grow and is San Antonio's largest marketing and advertising agency. The PM Group's client roster spans numerous industries including home services, automotive, CPG, entertainment and sports marketing, legal, business services, non-profits, real estate and fitness. For two consecutive years now, the Agency has set annual revenue records with the addition of six new clients and through the continued success of our existing clients. Additionally, the agency hosts their annual Charity Gala that to date has raised millions of dollars for local San Antonio area non-profit organizations in the last 15 years! In 2020 alone, the Agency donated over $1,050,000 to local non-profits. It is our way of giving back to the community that we so humbly serve.