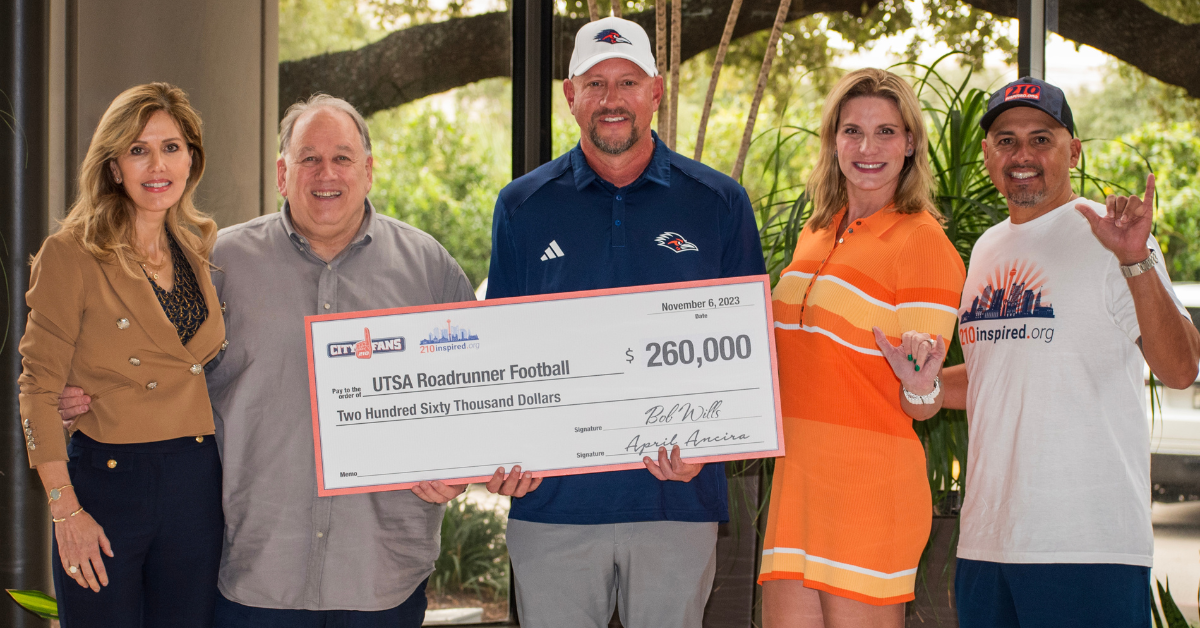 The two largest Name-Image-Likeness (NIL) non-profits here in San Antonio, City Fans 210 and 210 Inspired, collaborated to produce the 2023 Roadrunners Kickoff Luncheon that was held at the San Antonio Marriott Rivercenter Hotel on August 23rd.
The luncheon raised $260,000 for UTSA football recruitment.
"This event was brilliantly produced and attended by over 850 people. Best of all, City Fans 210 and 210 Inspired worked tirelessly to make this event financially successful and entertaining to those in attendance," stated UTSA Head Football Coach, Jeff Traylor.
San Antonio Sports Executive Director, Jenny Carnes, San Antonio Mayor, Ron Nirenberg, and Bexar County Judge, Peter Sakai joined Jeff Traylor in promoting the team's importance in the city of San Antonio.
April Ancira, Martin Salinas, Peggy Wills and Bob Wills chaired the event and represented the two organizing NIL non-profits.
About The PM Group: Founded in 1988 by our CEO/Founder/Media Director Bob Wills, The PM Group is now celebrating its 35th year in business. The agency continues its stellar growth and is San Antonio's largest advertising agency under the leadership of Agency President and COO Fran Yanity. The agency's client roster spans numerous industries including financial, casual dining, cultural organizations, home services, automotive, CPG, entertainment, sports marketing, legal, business services, non-profit, real estate and fitness. For the past five consecutive years, the agency has set annual year-over-year revenue records with the addition of new clients and organic growth of existing clients. Additionally, the agency continues its legacy of annual charitable giving by orchestrating fundraising events for local nonprofit organizations. The PM Group now raises approximately $2M annually, bringing our total charitable contributions to over $16M for the past 10 years.