The new CSN television network has added more UTSA broadcasts to its inaugural college football lineup.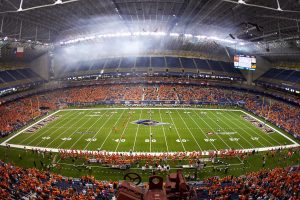 Quarter Moon Productions' new Citywide Sports Network won't broadcast its first live event until Sept. 16, but it's already adding content and securing new affiliate partners across Texas.

CSN, which will kick off its live sports programming with the University of Texas at San Antonio's Sept. 16 home football game against Southern, is adding two more Roadrunners telecasts. As a result, the new network will now televise all but three of UTSA's 11 games this season.

CSN has locked up agreements to televise UTSA road games against Texas State and North Texas on Sept. 23 and Oct. 14, respectively. Those contests will air locally on KMYS-TV (CW 35) and KCWX-TV.

As CSN picks up programming, it's also expanding its geographic reach and adding network affiliates in Austin, Dallas and Houston. UTSA's game against Texas State will also be broadcast in Austin on KEYE-TV via CSN.

Meanwhile, Tribune Broadcasting's Dallas affiliate, KDAF-TV, will carry CSN's telecast of the Roadrunners' Conference USA match up against North Texas.

CEO of Quarter Moon Productions Bob Wills said the new network's previously scheduled telecast of UTSA's Oct. 21 home game against Rice, set to air on CW 35 in San Antonio, will now also be picked up by Tribune-owned stations in Houston and Dallas.

"We are building out the CSN affiliate network," Wills said. "Next year, we hope to have stations all over the state. But you've got to crawl, walk and run. We are finding that stations like the content."

One of the lures CSN has used to hook affiliates is the fact that all of its football telecasts, with the exception of Texas State's Nov. 11 home game against Georgia State, will be broadcast in prime time.

CSN also plans to televise 14 NCAA men's basketball games involving UTSA, University of the Incarnate Word, St. Mary's University, Trinity University and Texas State. All of those games will tip off in prime time.

CSN will need advertiser support to be successful long term. Network officials said the early signs are positive.

"Getting ourselves launched as a new enterprise has its challenges and opportunities. But we've got all these games cleared and sponsors continue to come on board," Wills said.

CSN officials expect to break even financially through this first broadcast season, which runs through March with the basketball schedule.

"We are rolling," Wills said. "We are in multiple markets and now we just need to start producing games.

Scott Bailey
Reporter/Project Coordinator
San Antonio Business Journal

About The PM Group: The PM Group was founded in 1988. Over the past 30 years, the agency has continued to grow and is currently listed as San Antonio's Largest Advertising Agency by the San Antonio Business Journal. The PM Group's client roster spans numerous industries including automotive, CPG, entertainment and sports marketing, legal, business services, non-profit, real estate and fitness. In addition, the agency hosts an annual Charity Gala every February that to date has raised over $2.5 million for local San Antonio area non-profit organizations in the last 15 years! It is our way of giving back to the community that we so humbly serve.