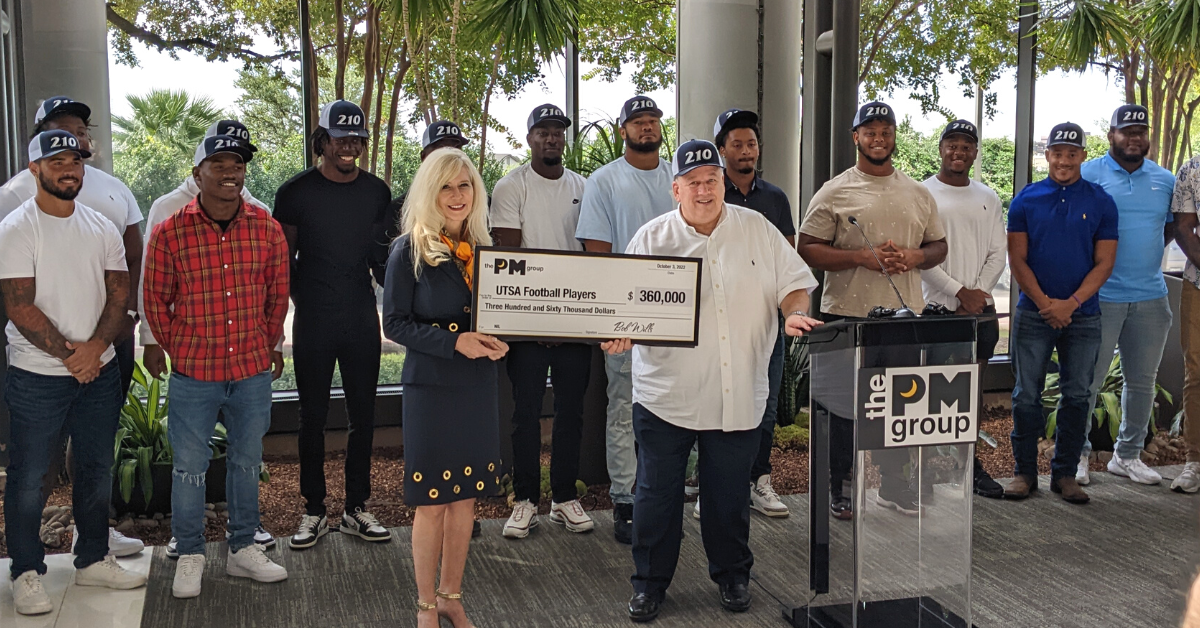 In June 2021, the United States Supreme Court ruled in a 9-0 decision that NCAA college players can receive NIL compensation (Name-Image-Likeness payments) from sponsors, boosters, and donors, while representing and playing for, their respective universities.
"This landmark decision creates a new marketplace for student-athletes when they are deciding where they will take their college football career," stated The PM Group's Fran Yanity. "High school student-athletes have new criteria to help them decide what college is the best choice for them," Yanity added.
Follow the money trail is now the future benchmark in NCAA sports.
With that new development, The PM Group decided to invest in our city by supporting UTSA's football program. Effective immediately, San Antonio's largest advertising agency, created a NIL fund of $360,000 to help the football program with their recruitment efforts. The PM Group's commitment will be made over the next three years.
"Head coach Jeff Traylor is a tremendous motivator and leader. He led UTSA to their first-ever Conference USA football title in 2021. We expect the best is yet to come with Coach Traylor," stated Bob Wills, CEO and Founder of The PM Group. "When you meet his players, you'll see the total admiration, respect, and confidence they all have for their head coach. This is worth investing in, we truly hope more San Antonio businesses will support UTSA players through NIL funding," Wills added.
Why do this?  Because San Antonio will most likely never get another major league sport like baseball, football, hockey or soccer. UTSA football and basketball can elevate our community through the tremendous publicity that NCAA college sports generate. Just look at the success our hospitality and tourism industry in San Antonio here has benefitted by hosting Men's and Woman's Final Four tournaments. In 2025 our city will host The Men's Final Four for the fifth time since 1998.
Go Roadrunners!
About The PM Group: The PM Group was launched in 1988 by our CEO & Founder Bob Wills. Now in our 35th year, the agency has continued to grow and is San Antonio's largest advertising agency under the leadership of President and COO Fran Yanity. The PM Group's client roster spans numerous industries including home services, automotive, CPG, entertainment and sports marketing, legal, business services, non-profits, real estate and fitness. For two consecutive years now, the agency has set annual revenue records with the addition of six new clients and through the continued success of our existing clients. Additionally, the agency hosts their annual Charity Gala that to date has raised millions of dollars for local San Antonio and South Texas area non-profit organizations. In 2021 alone, the agency donated over $1,800,000 to local non-profits. It is our way of giving back to the community that we so humbly serve.