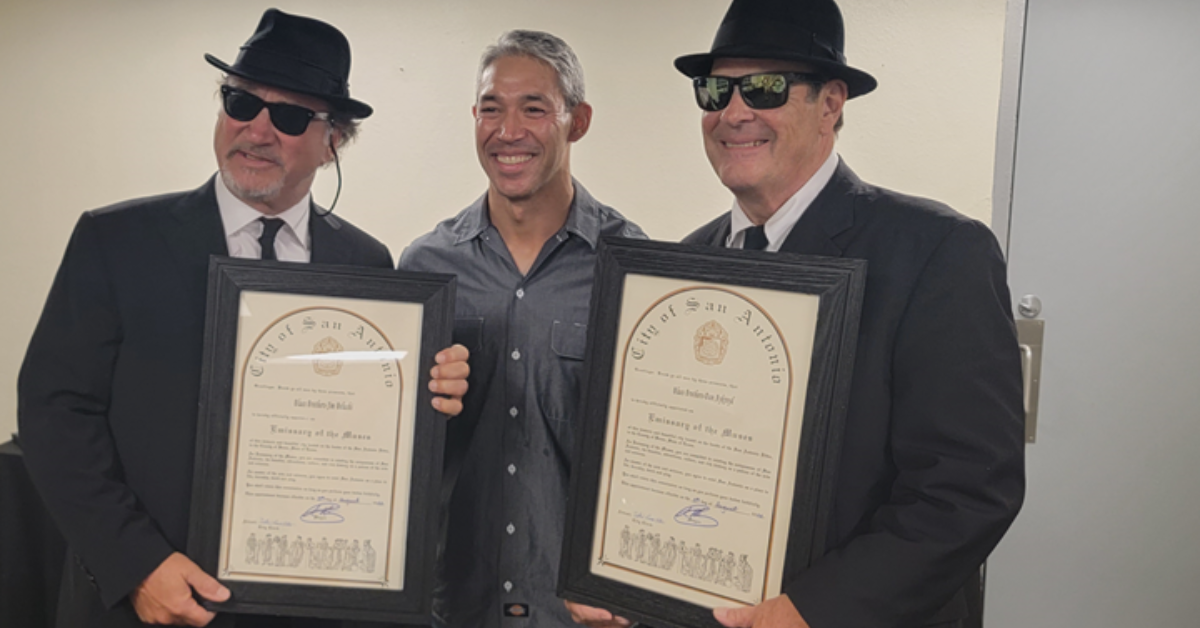 The Blues Brothers starring Dan Aykroyd and Jim Belushi appeared in concert at the Superhero Car Show & Comic Con August 5th, at the Freeman Coliseum. Before the show, San Antonio Mayor, Ron Nirenberg met with the stars backstage and awarded them with the "Emissary of the Muses" award for their contribution to the arts in our city.
"Thank you, Mr. Mayor, for this very special award, we are honored," stated Dan Aykroyd.
The 4-day pop culture show included the Blues Brothers concert, a Hollywood Car Show, appearances by dozens of celebrities like Star Wars' Ewan McGregor, Hayley Atwell, Dave Bautista, Rupert Friend, Simu Liu, Hulk Hogan, Stephen Amell, Giancarlo Esposito, Ross Marquand, Sam J Jones, Brandon Routh, Spencer Wilding and Burton Gilliam.     
PMX Events put on the Superhero Car Show & Comic Con and is a sister company to The PM Group, Noisy Trumpet Digital & Public Relations, Quarter Moon Productions and CSAV.
"This event is another stellar example of how our sister companies work together to produce world-class results. Over 30,000 people attended the event, and we received worldwide coverage for the City of San Antonio and our show," stated PMX Events and The PM Group CEO, Bob Wills.
About The PM Group: The PM Group was launched in 1988 by our CEO & Founder Bob Wills. Now in our 35th year, the agency has continued to grow and is San Antonio's largest advertising agency under the leadership of President and COO Fran Yanity. The PM Group's client roster spans numerous industries including home services, automotive, CPG, entertainment and sports marketing, legal, business services, non-profits, real estate and fitness. For two consecutive years now, the agency has set annual revenue records with the addition of six new clients and through the continued success of our existing clients. Additionally, the agency hosts their annual Charity Gala that to date has raised millions of dollars for local San Antonio and South Texas area non-profit organizations. In 2021 alone, the agency donated over $1,800,000 to local non-profits. It is our way of giving back to the community that we so humbly serve.