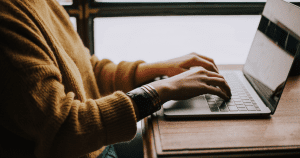 What is ad tracking and how does it work?
Have you ever been browsing online or searching on Google or BING and then mysteriously received ads for the product or service you just researched? Unsurprisingly, most people would say "yes."  Both large corporations like Google and Facebook, as well as independent websites, benefit from using your searches, engagements, and activity online to build a user profile. This is commonly referred to as "ad tracking."
Often this occurrence seems suspicious, or even a little creepy, but it is certainly no coincidence. This trend is an effort to provide consumers with ads that are more relevant and should be mutually beneficial to the brand and consumer alike. The advertiser has a higher chance to convert leads into customers while the consumer receives more ads which pertain to their current needs or interests.
Why would advertisers track my online activity?
In a nutshell, digital marketing is the process of implementing the proven craft of advertising to the booming world of the internet.  While traditional advertisers still gain massive results to this day utilizing methods such as TV commercials, radio spots, print and outdoor advertisements, digital marketers use outlets like online banner ads, pop-ups, and paid-content to convey their message. Mediums will always change, but the end goal will remain the same: improve brand awareness and increase sales.
So, to digital marketers, cross-site tracking or "ad tracking" is an essential tool because it provides insightful market research and consumer profiles which can be used to target visitors more effectively and provide relevant marketing messages.
Sounds nice, but what if I want to browse off the record?
Can you avoid it? In short, somewhat. IP addresses are always stored just as visits, hits, engagements, and purchases are continuously observed. Unless you are utilizing private browsing or an anonymous internet browser, services like Google and digital marketers can monitor all of your trackable online activity and often, combine this info with past data to build a more detailed and accurate consumer profile.
Well, maybe it's not such a bad thing after all.
This trend of ad tracking is one of the easiest ways for entities online to acquire promising leads. Over time, and often in no time at all, digital marketers are constructing consumer profiles. The more data they receive, the more detailed this profile becomes. Once they gain information about a particular profile, automated programs start feeding more relevant ads. For example, if you are using the web to search for a ride-on mower or yard supplies, don't be surprised if you start seeing advertising for lawn mowers, landscaping, or mowing services on your computer screen. If you indeed are searching for this product, maybe a new product release or limited time offer/sale could be just what you want.
Ad tracking can be an invaluable resource for marketers. Next time you go researching or shopping online, keep an eye on the ads you receive in the coming days. You may be impressed to see how effectively advertisers track you online.
About The PM Group:
The PM Group is a San Antonio advertising agency focused on producing significant and measurable results for our clients. The PM Group is proud of our dedicated account service executives, award-winning creative department, and unmatched media clout. If your marketing presence needs a face-lift or your business needs more results, faster – there's only one advertising agency in San Antonio to call.