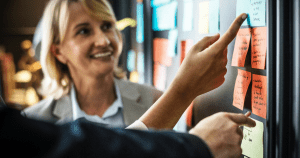 Have you ever bought a product you love, except for one detrimental flaw? Or do you love a product, but during use, you realize a feature could be added to make next year's version even better? These may be minor frustrations for consumers, but for the companies producing such products, this would be extremely valuable feedback.

As consumers, if we aren't satisfied with the offerings of a specific product line or brand, we will search elsewhere to meet our needs. These insights are known as primary data. As you can imagine, they are valuable to businesses and marketers promoting those products. But why are they important to marketers? Why do they need this information? Simply put, Primary data helps marketers better understand their target audience.

Many brands conduct some form of market research to better understand the needs of their target consumer. The plan for a successful business can be essentially boiled down to discovering precisely what your target wants, then creating that product or service which makes them feel better, solves a problem they have, or feeds a desire or interest they hold, and delivering that solution at a fair price.

Market research illuminates both desired product criteria and target consumer problems, wants, and needs, also known as primary data. Marketers then use this data to improve products or advertise and market them to their audience in the most effective manner possible.

Sometimes a product can have poor sales, even when it works perfectly. Perhaps this is because the sales and marketing teams are showing the product to the wrong people or displaying the product in the wrong mediums at the wrong times. By understanding the target, marketers also know how to better serve consumers the information they need to acquire your product or pay for your service.

In order for marketing to succeed, sometimes marketers will need to gather qualitative data through methods like a focus group or a one-on-one interview. Once they understand the attitudes, opinions, and tendencies of the consumer, they can gain a competitive edge over the competition by marketing directly to them and appealing to their unique perspectives.

Businesses rely heavily on consumer data in order to succeed. Although primary data research is costly and time-consuming, this valuable information decreases a product or brand's risk of failure and is the solid foundation for building long-term success.

About The PM Group: The PM Group is a San Antonio advertising agency focused on producing significant and measurable results for our clients. The PM Group is proud of our dedicated account service executives, award-winning creative department, and unmatched media clout. If your marketing presence needs a face-lift or your business needs more results, faster – there's only one advertising agency in San Antonio to call.