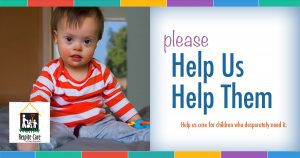 We are proud to be working with so many wonderful nonprofits that work tirelessly in our community. This includes organizations like SA YES, Austin YES, CC YES, Brighton Center, San Antonio Sports – and last but certainly not least, Respite Care. As one of our newest nonprofit clients, Respite Care has hit the ground running with our services as they raised awareness as San Antonio approached the Big Give on March 26, 2020.
Unfortunately, with the development of COVID-19, Big Give San Antonio had to cancel their annual event. In a quick turnaround, Big Give has now created Big Give Emergency Relief. An effort to aid the nonprofit organizations of San Antonio by allowing our community to make online donations. More than ever, donations will become an essential piece of what allows these nonprofits to keep moving forward. With COVID-19 making everyone shift their daily routines, forcing cancellations of events and fundraisers, and placing stress on family and business finances, non-profits need our help now more than ever.
Respite Care of San Antonio has a mission to "protect, love, build trust, and nurture the growth of children with special needs and complex medical conditions while strengthening the families caring for them." They fulfill their mission by providing community-based programs, like full-time and after school care, emergency shelter, family day out, and parent's night out. These services help provide a temporary respite for parents and families so that they can achieve long-term financial and emotional stability with the challenges that often come with raising a child with special needs.
We love when our clients come to us for services and we have the opportunities to support them in return. Leading up to the Big Give and now Big Give Emergency Relief, The PM Group assisted Respite Care with a campaign that included talking points for Texas Public Radio spots, coordination of a morning show appearance on Telemundo, production and placement of print ads, and the writing and securing of a full-page ad and "Give Back" editorial featured in SA Woman magazine. Our goal is to see these efforts increase the community's awareness of all Respite Care has to offer and encourages San Antonians to donate so that they can continue their mission.
Our nonprofit work has and will always be some of our favorite work as an agency. Helping organizations that help our community gives us a sense of pride knowing that the work will have a lasting impression for the people of San Antonio. Big Give San Antonio's Emergency Relief is now live and you can donate to Respite Care at this link. To donate to our other non-profit clients during Big Give Emergency Relief please see the links below.
Brighton Center #BigGiveRelief
About The PM Group: The PM Group was founded in 1988. For over 31 years, the agency has continued to grow and is San Antonio's largest advertising agency. The PM Group's client roster spans numerous industries including automotive, CPG, entertainment and sports marketing, legal, business services, nonprofit, real estate and fitness. In addition, the agency hosts an annual Charity Gala that to date has raised millions of dollars for local San Antonio area nonprofit organizations in the last 15 years! In the past 10 years, The PM Group has raised both directly and indirectly over $12 million for these charities. It is our way of giving back to the community that we so humbly serve.