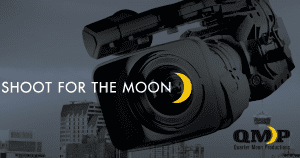 In October 2010, our sister company, Quarter Moon Productions (QMP), opened its doors as a state-of-the-art post-production studio. In just the first 3 months, they produced over 200 TV commercials, truly hitting the ground running and paving the way for their future growth. Over the span of just 12 months, QMP went on to produce over 1,000 commercials for clients across the country including Pizza Hut, Visionworks, Eye Masters, Taco Bell, the San Antonio Spurs, KFC, IHOP, and the San Antonio Rampage hockey team.
Starting in year two, the studio began producing TV shows and live NCAA college football games for UTSA.
Today, QMP has grown into the largest full-service television production studio in San Antonio & South Texas specializing in post-production, broadcast TV production, video features, and live sports. The studio has eight TV shows on air in Texas including their breakout lifestyle show YOLO, TX that airs on 17 television stations across Texas every week.
"QMP has grown into a phenomenal production studio organization with 37 dedicated employees producing outstanding work day after day," stated CEO & Founder Bob Wills.
When asked "what's next?" Bob stated that QMP is preparing for more regional & national television production & distribution in tandem with the digital era.
Congratulations, Quarter Moon Productions, on a fantastic 8 years and many more to come!
About The PM Group: The PM Group was founded in 1988. Over the past 30 years, the agency has continued to grow and is currently listed as San Antonio's Largest Advertising Agency by the San Antonio Business Journal. The PM Group's client roster spans numerous industries including automotive, CPG, entertainment and sports marketing, legal, business services, non-profit, real estate and fitness. In addition, the agency hosts an annual Charity Gala every February that to date has raised over $3 million for local San Antonio area non-profit organizations in the last 15 years! It is our way of giving back to the community that we so humbly serve.