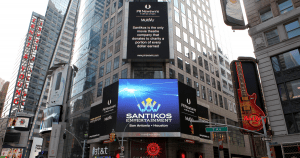 The Partnership
In 2016, when Santikos Entertainment constructed the latest in their recent line of luxury entertainment complexes, they selected The PM Group as their agency. Being a community-oriented company ourselves, we were thrilled to work with Santikos Entertainment, known for their unrelenting dedication to the Texas community and their pursuit of the perfect movie-going experience.
Legendary Texas theatre founder and owner John Louis Santikos arranged for his lucrative theatre empire to be converted into a community-serving business. In 2011, the John L. Santikos Charitable Foundation was formed to operate Santikos Entertainment as a social enterprise and for-profit company that exists for the sole purpose of giving back to non-profits in the San Antonio area in the form of donations, sponsorships, grants, and programming. Sadly, Mr. Santikos passed away in 2015, but his legacy lives on. When you purchase a ticket or refreshment at any Santikos theater, a portion of every dollar goes back into the South Texas community he loved so dearly.
The Theatre
To support their charitable endeavors, Santikos Entertainment operates some of the most popular and innovative theaters in San Antonio including the Greek-inspired Santikos Palladium. In that same vein, the $13 million Casa Blanca theatre was designed to deliver state-of-the-art cinema and entertainment experiences without compromising the Santikos Entertainment brand's commitment to community enrichment and support. The Santikos Casa Blanca theatre complex now thrives in Alamo Ranch.
In total, the complex seats 2,850 people in 130,000 square feet of real estate. Casa Blanca also offers automated ticket services, both online and on-site, as well as a café, a full-service sports bar, and 16 lanes of regulation bowling. When it opened, the theater was the first 100% laser digital projection theatre in the world with Barco L-Series flagship projectors. Of the 16 cinema theatres inside the Casa Blanca complex, two of them have 43' by 90' viewing areas which are currently the largest screens in Texas.  Casa Blanca boasts cutting-edge Klipsch speakers, Dolby Atmos Surround Sound, in-theater dining and oversized reclining seats. All of Casa Blanca's features combine to create the most enjoyable and memorable night out imaginable.
The Strategy
We knew the best way to reach future Casa Blanca customers would be to target current Santikos visitors. By providing messaging to visitors already enjoying Santikos theatres, we helped to create a guaranteed audience of dedicated moviegoers and fans searching for a theatre closer to home, entertainment, bowling, and games for the entire family, or a more premium cinematic experience.
Prior to 2016, the Alamo Ranch area was one of the fastest growing sectors of San Antonio, yet the closest theater was almost ten miles away. When Casa Blanca opened its doors, it had a massive customer base eager for a premium entertainment experience. This deliberate approach assured Casa Blanca was profitable from day one.
The Campaign
When launching the Casa Blanca, Santikos Entertainment wanted San Antonio to understand why this theater was so special. The launch of their most technologically advanced venue to date had to stand out against the competition. Introducing the Casa Blanca location to the public was a multi-faceted campaign.
The PM Group constructed a multi-tiered marketing campaign. We developed deliverables and elements for the Grand Opening including in-theatre signage, video content, outdoor marketing, TV spots, radio production, and branded collateral. Meanwhile, we also organized a professional PR campaign complete with press releases, media conferences, interviews, and even exposure in New York City's Time Square.
Our team also assisted with the planning of a VIP party and coordinated the production of lanyards, signage, and collateral for volunteers and attendees as well as character appearances and entertainment.  In addition, The PM Group helped promote the Santikos rewards loyalty program with print and in-theatre marketing. The agency also developed an exclusive giveaway contest to drive traffic in the opening weeks of the theatre called the Casa Blanca Cash and Cars Game which granted one lucky winner their choice of one of twelve cars, trucks, and SUVs.  The contest drove significant traffic and awareness to the theater complex in its opening weeks.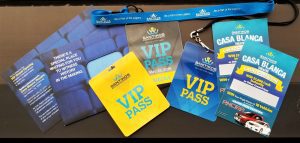 The Outcome
The opportunity with Santikos Entertainment and their cutting-edge Casa Blanca theatre perfectly aligned with our agency capabilities. We're proud and humbled to have helped Casa Blanca become the #1 theater in the nation for the opening weeks of Central Intelligence (Kevin Hart, Dwayne Johnson), and Bad Moms (Mila Kunis, Kristen Bell) as well as the #3 theatre in the nation for Illumination Entertainment's The Secret Life of Pets (Louis C.K., Eric Stonestreet).
Business launches and grand openings are among some of our favorite events to strategize, plan and execute because we get to engage all of our agency capabilities. "That's when our team really shines," said agency President Fran Yanity, "when all of our departments collaborate to create an entire integrated strategic marketing plan. We were proud to craft an engaging and effective campaign which promoted the Santikos Entertainment brand and generated exposure for the exciting new Casa Blanca location." Santikos Entertainment was very gracious and appreciative of our work, across-the-board. The President and CEO of Santikos Entertainment at the time, Art Seago, admitted that it was the most successful launch in the history of Santikos.
Is your business looking to launch a major, new project? When reviewing agencies for company launches, event marketing, and full-fledged marketing campaigns, consider The PM Group.
About The PM Group: The PM Group was founded in 1988. Over the past 30 years, the agency has continued to grow and is currently listed as San Antonio's Largest Advertising Agency by the San Antonio Business Journal. The PM Group's client roster spans numerous industries including automotive, CPG, entertainment and sports marketing, legal, business services, non-profit, real estate and fitness. In addition, the agency hosts an annual Charity Gala every February that to date has raised over $3 million for local San Antonio area non-profit organizations in the last 15 years! It is our way of giving back to the community that we so humbly serve.