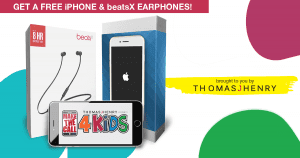 The Make the Call 4 Kids campaign presented by Thomas J Henry launches today, September 9th in an effort to support various charitable organizations throughout South Texas. Through November 10th (or while supplies last), donors can go to MaketheCall4Kids.com, choose their city, and make a donation to a designated charity doing incredible work in their community. As a thank you for the donation, donors will receive a pre-selected iPhone of their choice and BeatsX Earphones, courtesy of Thomas J Henry. Only 200 phones per market are available in San Antonio, Corpus Christi and Austin. Funds raised benefit Brighton Center in San Antonio, SAFE in Austin, and CASA of the Coastal Bend in Corpus Christi.
To make your donation now, go to makethecall4kids.com.
About Brighton Center: Brighton Center provides developmental and education services to children of all abilities. Through a holistic, family-centered approach, they offer enrichment and development through an inclusive early childhood education program, in home therapy services, counseling, case management and special education support and services. They offer families hope, caring, understanding, and education that not only uplifts the child but uplifts the parents as they learn how to best help their child overcome hurdles and succeed.
About SAFE: SAFE's main mission is to stop abuse for everyone. The SAFE Alliance is a merger of Austin Children's Shelter and SafePlace, both long-standing and respected human service agencies in Austin serving the survivors of child abuse, sexual assault and exploitation, and domestic violence. They offer shelter and housing, face-to-face support, prevention and education, and advocacy for those in their community.
About CASA of the Coastal Bend: CASA of the Coastal Bend is an advocacy group supporting the children in Nueces and Aransas counties. CASA was first started by a juvenile court judge in Seattle who was concerned about making drastic decisions with insufficient information and had the idea of citizen volunteers speaking up for the best interests of abused and neglected children in the courtroom. CASA now spans across 49 states, with the program expanding to the Coastal Bend in 1991. Their vision is to have a community where every child has a voice in court through a CASA volunteer so that they can speak up for and find permanent homes for foster children in crisis.
About The PM Group: The PM Group was founded in 1988. For over 30 years, the agency has continued to grow and is San Antonio's largest advertising agency. The PM Group's client roster spans numerous industries including automotive, CPG, entertainment and sports marketing, legal, business services, non-profit, real estate and fitness. In addition, the agency hosts an annual Charity Gala that to date has raised millions of dollars for local San Antonio area non-profit organizations in the last 15 years! In the past 5 years, The PM Group has raised both directly and indirectly over $3.5 million for these charities. It is our way of giving back to the community that we so humbly serve.