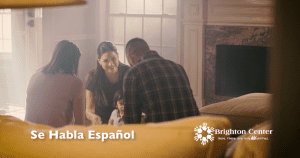 The PM Group recently developed a new campaign for Brighton Center to expand their messaging in the community. As a company offering numerous services: early childhood education, early childhood intervention services, and special education support and services, certain areas of the community may not know their children can be helped by all the organization provides.
One area in particular that Brighton Center was looking to increase was their in-home therapy services provided on the southside of San Antonio. While they have been serving this community for several years, Brighton had the capabilities and the heart to help even more families. Knowing the concerns and needs of this community, our team wanted to ensure the messaging communicated the free screenings Brighton provided, the ability to have all therapy covered 100% by Medicaid, and the comfort of knowing all services could be provided in Spanish.  We wanted to appeal to parents who notice their children may be struggling and give them the knowledge and encouragement to reach out to Brighton who can support their needs. After all, the right help at the right time can change a life.
About Brighton Center: Brighton Center provides developmental and education services to children of all abilities. Through a holistic, family-centered approach, they offer enrichment and development through an inclusive early childhood education program, in home therapy services, counseling, case management and special education support and services. They offer families hope, caring, understanding, and education that not only uplifts the child but uplifts the parents as they learn how to best help their child overcome hurdles and succeed.
About The PM Group: The PM Group was founded in 1988. For over 31 years, the agency has continued to grow and is San Antonio's largest advertising agency. The PM Group's client roster spans numerous industries including automotive, CPG, entertainment and sports marketing, legal, business services, non-profit, real estate and fitness. In addition, the agency hosts an annual Charity Gala that to date has raised millions of dollars for local San Antonio area non-profit organizations in the last 15 years! In the past 10 years, The PM Group has raised both directly and indirectly over $12 million for these charities. It is our way of giving back to the community that we so humbly serve.