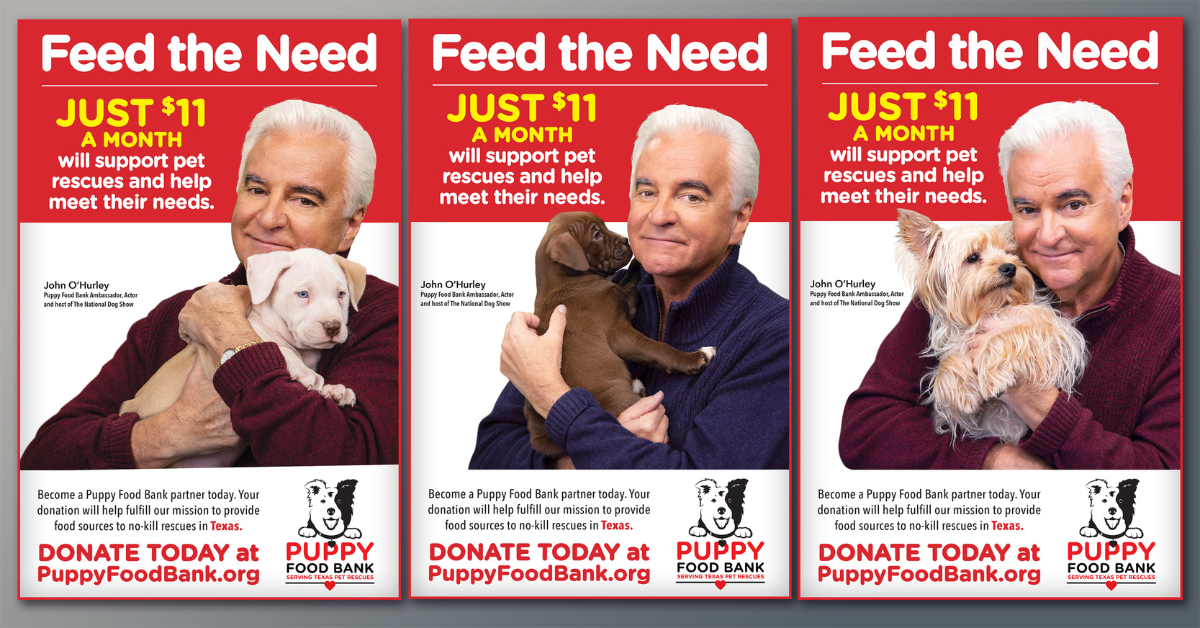 The aftermath of the COVID pandemic and steep inflationary pressures on families have left pet rescue shelters struggling to care for dogs and cats across Texas. Many shelters have seen their pet populations rise 200-300% in the past 18 months.
There hasn't been a pet rescue need this great in our community in decades. City shelters here in San Antonio that have been 'kill-free' rescues over the past five years are once again euthanizing pets.
So much for man's best friend. It's just wrong!
"We are problem solvers here at The PM Group for businesses across dozens of categories. Creative solutions are what we do best," stated Fran Yanity, the San Antonio-based Advertising Agency's President, and Chief Operating Officer.
The Puppy Food Bank is a virtual food bank that will raise funds, purchase bulk pet food and direct ship the pet food to qualified pet rescue shelters in San Antonio, Austin, Dallas, Fort Worth and Corpus Christi. Shipments are expected to begin by April 2023.
Danielle Gunter, the organization's Executive Director is no stranger to nonprofit operations. In addition to her responsibilities at the Puppy Food Bank, she also oversees the Texas Yes Project that provides FREE school supplies to Title 1 elementary school children every year. In 2022, she led the organization to assist over 78,000 children with all recommended school supplies needed to succeed in class, as recommended by the State of Texas Department of Education. They also provide both STEM and STEAM grants to schools each year.
"We hold several Texas Yes fundraising events every year to make ourselves self-sufficient," stated Gunter. "We will take that same approach with the Puppy Food Bank," she added.
John O'Hurley, the 23 year host of NBC television's National Dog Show televised each year on Thanksgiving Day, has signed on as the Puppy Food Bank 'Brand Ambassador.' He will appear in Puppy Food Bank television and radio announcements as well as make public appearances to help raise monies to support the organization's mission of pet support. "I love pets, have several pets myself and absolutely love what this nonprofit is all about," stated the former host of "Family Feud" and as 'Mr. Peterman' from the legendary hit series "Seinfeld."
To donate to the Puppy Food Bank, the organization asks that pet lovers make an $11 monthly donation at www.PuppyFoodBank.org.
"If we can just obtain 2,500 donors in every Texas market we serve, we can save thousands of pets each year," stated the Puppy Food Bank founder, Bob Wills. "By giving just 37 cents per day, you can make a BIG difference," Wills added.
About The PM Group: The PM Group was launched in 1988 by our CEO & Founder Bob Wills. Now in our 35th year, the agency has continued to grow and is San Antonio's largest advertising agency under the leadership of President and COO Fran Yanity. The PM Group's client roster spans numerous industries including home services, automotive, CPG, entertainment and sports marketing, legal, business services, non-profits, real estate and fitness. For two consecutive years now, the agency has set annual revenue records with the addition of six new clients and through the continued success of our existing clients. Additionally, the agency hosts their annual Charity Gala that to date has raised millions of dollars for local San Antonio and South Texas area non-profit organizations. In 2021 alone, the agency donated over $1,800,000 to local non-profits. It is our way of giving back to the community that we so humbly serve.