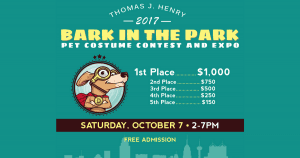 Our client and leading Texas injury lawyer Thomas J. Henry has always been serious about helping Texans in need, but some folks forget that he's serious about protecting and benefiting Texas pets as well!
This year marks the 3rd Annual San Antonio Bark in the Park Pet Costume Contest.  The event started in Corpus Christi, Texas in 2012 as a fun, festive event bringing together pet-owners, local pet businesses, pet rescue organizations, and no-kill pet shelters in an attempt to raise money and awareness for pet initiatives in the community and has since expanding into San Antonio.  All proceeds will benefit local shelters: San Antonio Pets Alive and the Animal Defense League of Texas.
The event is much more than a pet costume contest as you can walk the grounds and enjoy delicious meals from local food trucks, buy treats and accessories for your pets or even adopt another furry family member to join your pack.  There's also a kid's area for the little ones to play games and ample water bowls line the walkways to make sure Fido doesn't get too hot during all the excitement.
So, if your dog is sporty, spunky, or just super-cute dressed up in their costumes, bring them down to Sunken Gardens Theater on October 7th from 2-7 pm. Anyone can register their pet into the costume contest for the chance to win cash prizes and be judged by this year's panel of celebrity judges.  With local celebrities Kimberly Crawford, Leslie Bohl, Spurs player Danny Green and Rey Feo LXIX judging the final rounds, you don't want to miss out on the chance for your pet to be crowned this year's first place winner and walk away with $1,000!
To find our more information and to register your pet visit tjhlaw.com/bark.
About The PM Group: The PM Group was founded in 1988. Over the past 30 years, the agency has continued to grow and is currently listed as San Antonio's Largest Advertising Agency by the San Antonio Business Journal. The PM Group's client roster spans numerous industries including automotive, CPG, entertainment and sports marketing, legal, business services, non-profit, real estate and fitness. In addition, the agency hosts an annual Charity Gala every February that to date has raised over $2.5 million for local San Antonio area non-profit organizations in the last 15 years! It is our way of giving back to the community that we so humbly serve.