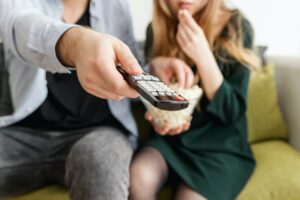 Despite numerous stories about the death of traditional television viewership, a recent online survey by MSN revealed that 72% of the responding audience chose Cable, Satellite or Traditional Television Viewership amongst viewing options "they watch most at home".

Only 19% of the 231,478 respondents chose Netflix and 2% chose Internet services like Sling.

These results were posted as of June 19, 2017.

The PM Group is the most dominant buyer of television in San Antonio and South Texas. If you need help deciphering the challenges facing advertisers in today's volatile advertising market, give agency president Fran Yanity a call at 210-490-2554 and we'll get your advertising costs down and your business generating more business!

About The PM Group: The PM Group was founded in 1988. Over the past 30 years, the agency has continued to grow and is currently listed as San Antonio's Largest Advertising Agency by the San Antonio Business Journal. The PM Group's client roster spans numerous industries including automotive, CPG, entertainment and sports marketing, legal, business services, non-profit, real estate and fitness. In addition, the agency hosts an annual Charity Gala every February that to date has raised over $2.5 million for local San Antonio area non-profit organizations in the last 15 years!  It is our way of giving back to the community that we so humbly serve.