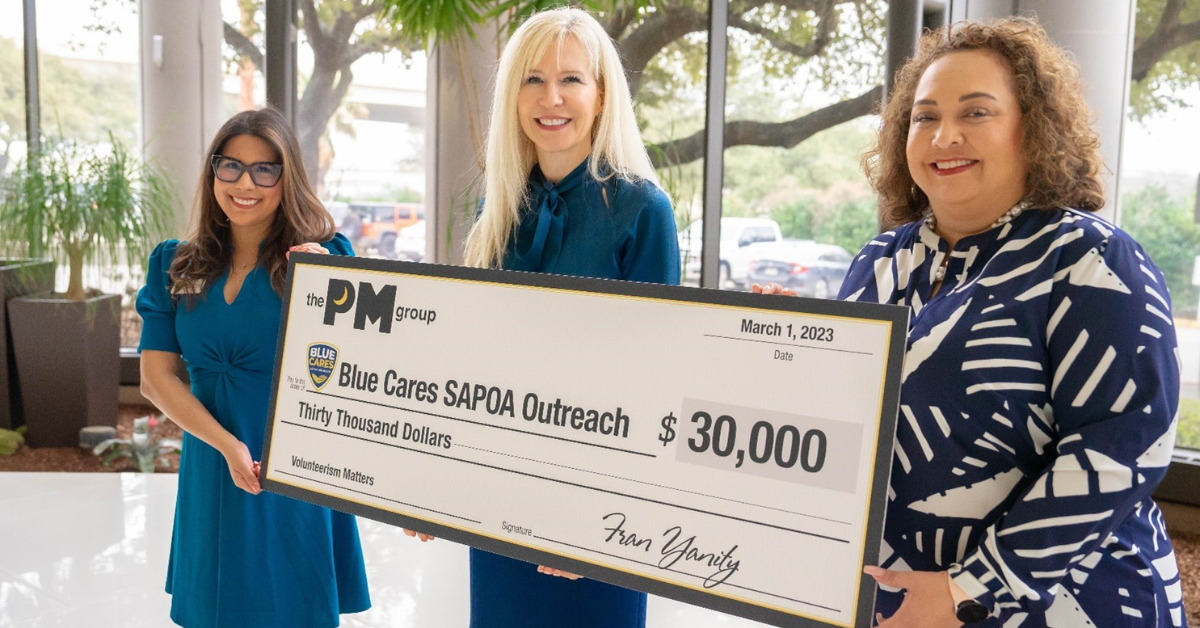 Christmas came very early for the San Antonio "Blue Santa" program when The PM Group donated $30,000 to the Blue Cares SAPOA Outreach program. The monies will be used to support underprivileged, low-income, or at-risk children and their families in our community.
In 1976, the Blue Santa Program was created to help deliver holiday happiness to families and children throughout San Antonio. Blue Santa is all about bringing hope and joy to families that struggle to make ends meet during the toughest times of the year, the holidays.
To achieve their goals, Blue Cares works with local governmental and educational institutions, small and large local businesses, and other non-profit organizations.
"It is with great joy that The PM Group can help the Blue Santa program deliver holiday happiness to so many children in our community that would otherwise go without," stated PM Group President Fran Yanity.
About The PM Group: The PM Group was launched in 1988 by our CEO & Founder Bob Wills. Now in our 35th year, the agency has continued to grow and is San Antonio's largest advertising agency under the leadership of President and COO Fran Yanity. The PM Group's client roster spans numerous industries including home services, automotive, CPG, entertainment and sports marketing, legal, business services, non-profits, real estate and fitness. For two consecutive years now, the agency has set annual revenue records with the addition of six new clients and through the continued success of our existing clients. Additionally, the agency hosts their annual Charity Gala that to date has raised millions of dollars for local San Antonio and South Texas area non-profit organizations. In 2021 alone, the agency donated over $1,800,000 to local non-profits. It is our way of giving back to the community that we so humbly serve.