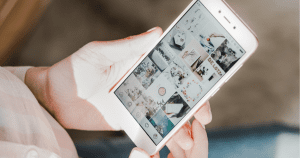 If you have Instagram, you probably follow a few celebrities that you enjoy keeping up with. Many celebrity accounts have one million-plus followers giving them a platform to share their voice and opinions in a big way. Let's take Kim Kardashian for example, who has over 136 million followers and has a social media reach that is almost impeccable. Even with Instagram's new tricky algorithms, a post from Kim's account is projected to reach millions of Instagram users. The Kardashian family is considered to be some of Instagram's top Influencers who have the power to persuade their followers to make purchase decisions from a single post.
With the entire Kardashian/Jenner clan having over 100 million followers each, brands were shocked to discover that they actually received fewer conversions from celebrity Instagram ads than from micro-influencers with much smaller followings.
What are Micro-Influencers?
Micro-influencers impact their audience's purchasing decisions just like larger influencers do. However, micro-influencers produce sponsored content on a much smaller scale (usually in the 10,000's range). This allows for more brand authenticity and visual, eye-catching content.  According to HubSpot, 82% of consumers reported they were more likely to take a recommendation from a micro-influencer than an influencer with more clout and followers. As it turns out, micro-influencers are seen as being more trustworthy than celebrity influencers and are more likely to interact with their audience by responding to comments. The micro-influencer's relationship with their audience is more intimate than your average celebrity influencer. In fact, micro-influencers are "22.2 times more likely" to engage with followers than celebrity influencers.
More recently, social media has seen a shift in sponsored content with an increasing number coming from micro-influencers. Brands are starting to prefer this personalized approach due to the positive response in sales and the money they save by working with smaller influencers. According to AdAge, Kim Kardashian recently confirmed she receives anywhere from "$300,000 to $500,000 for a single Instagram post" endorsing a product she likes. For the average celebrity with fewer followers, the sponsored post content rate can cost brands upwards of $75,000 for a single post. These hefty celebrity price tags make the micro-influencer rate seem more appealing, which is typically less than $500 and can be substituted for free products.
How to Determine if Micro-Influencer Marketing is for You
Studies have shown, the more an Instagram user's account grows in follower count the less their followers engage with them. While their popularity grows, their engagement negatively correlates with it. Micro-influencer marketing is found to be most beneficial to companies that have eye-catching products and smaller budgets. This allows for companies to maximize frequency and reach by narrowing down target consumers. Companies with a bigger budget should look into implementing a mix of popular influencers as well as micro-influencers, broadening their marketing message. Due to the visual appeal influencer marketing has, more complex products and services (such as computer software and financial services) may be more difficult to market on a platform that thrives on visual aids.
The way consumers once engaged with content has evolved. Instagram users crave personalized experiences and having the opportunity to interact with the influencers they choose to follow. Influencers should bring value and interact with their followers; this not only helps the brand they are working with be more successful, but it also establishes loyalty for the influencer making it a win-win for everyone. When appropriate, brands should utilize micro-influencers to establish brand awareness with new target consumers.
About The PM Group: The PM Group was founded in 1988. Over the past 30 years, the agency has continued to grow and is currently listed as San Antonio's Largest Advertising Agency by the San Antonio Business Journal. The PM Group's client roster spans numerous industries including automotive, CPG, entertainment and sports marketing, legal, business services, nonprofit, real estate and fitness. In addition, the agency hosts an annual Charity Gala every February that to date has raised over $3 million for local San Antonio area non-profit organizations in the last 15 years! It is our way of giving back to the community that we so humbly serve.