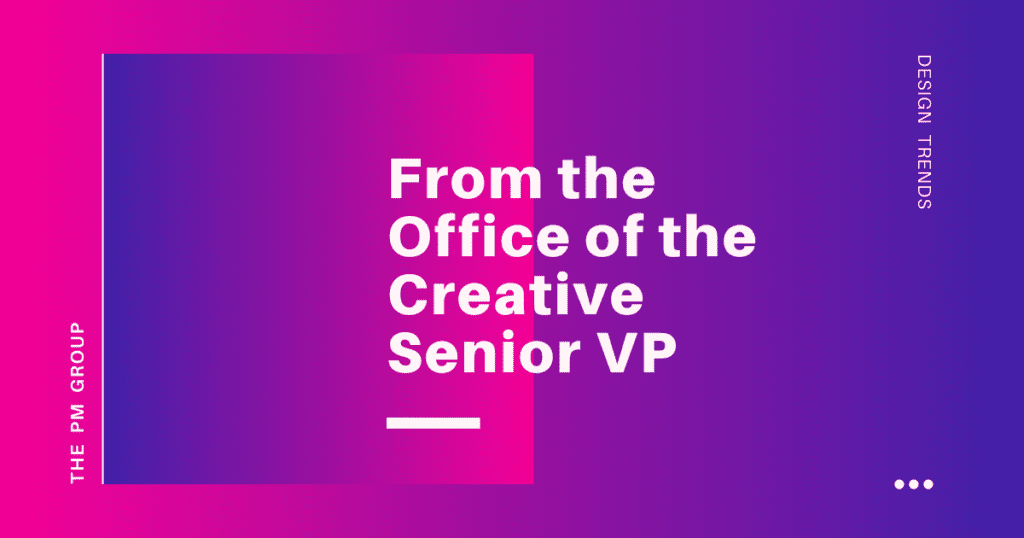 If there's one thing 2020 taught us, it's that life is unpredictable. So, when The PM Group's creative department shares the graphic design trends we see ahead, it's with a very cautious eye knowing that in a moment the world can change dramatically. That said, probably the biggest marketing and advertising trend we see is the use of "hybrid".  In business, in design, and in pop culture, we see a mix or hybrid way of approaching elements within these respective industries.
In May, The PM Group began using a hybrid office schedule of three days in the office and two days working from home. We know there are many companies following this same procedure as the world begins to open back up. The Harvard Business Review has some great guidance that can be helpful for all companies faced with this same return to work situation but, we can't forget what remote work has taught us over the last year and a half.
'Work from Home' has made us more aware of the differences between introverts and extroverts. One of our favorite articles from Psychology Today discusses ways to better communicate with each other at work while working from home. Keeping the leading marketing firm on top takes focus and constant tweaking to our agency systems and procedures. Taking time to recognize the strengths in our differences elevates our work and our overall business.
In a broader view, the 15 Top Marketing Trends from Forbes magazine has a good up and down commentary on the marketplace which appears to be quite a mix. It includes changes in digital media, automation, direct mail and even how we focus on meaning and purpose. A true hybrid across the business world.
We can even see these types of hybrid trends within music and even fashion! Billboard Magazine's 100 Top Songs of 2020 is interesting in their eclectic mix of music genres and artists. In the world of marketing, graphic design, and fashion, "sustainability" is a buzz word that is permeating across these industries. It seems that time during the pandemic was spent learning more about the environment and how we need to work together to improve it.
We are even seeing more trends in how people choose to dress. Comfort dressing is big one. Elevated loungewear, athleisure, and even sweater vests are staking their claim and it's interesting to see how "fashion people" are styling this trend and making waves across social media especially. On the opposite side of the spectrum, we see the 80's-style of big shoulders and midriff tops also becoming popular (but we prefer the comfort clothes personally).
All of these changes within these different industries creates noticeable shifts in our culture and that feeds all the way into what we see in advertising and marketing trends. So, on many fronts: business, design, music, and fashion, we will continue to see a big mix of approaches and their effect around us and it will be fascinating to see what trends take hold in 2021.
Marion DeWall
Senior Vice President | Creative Services