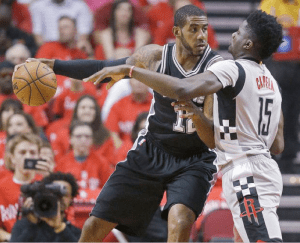 Vegas has made the Warriors an 11-1 favorite versus the Spurs.
It's remarkably surprising that these two teams haven't met in four years in the playoffs, considering how dominant each has been during that span. The Warriors followed up a record-breaking 73-win season by adding Kevin Durant and pacing the league yet again with 67 victories, while San Antonio once again put together the second-best mark in the NBA with 61 wins, down from 67 a year ago—quite a feat considering the loss of legend Tim Duncan to retirement and Tony Parker was lost to a knee injury in the Memphis series. However, these two have been on a collision course for some time now, but every potential showdown was derailed by unforeseen upsets along the way. Now they will finally go head-to-head in a best of seven that will almost certainly be highly entertaining.
Even though the Spurs won 2 of 3 games versus the Warriors this past regular NBA season, it won't be nearly as easy, and perhaps not even possible, for San Antonio to win the western conference finals without its best player. The Warriors talented squad will test the Spurs in ways that the Rockets and Grizzlies couldn't imagine. It's hard to imagine a scenario in which San Antonio can contain a trio of stars—Steph Curry, Klay Thompson and Kevin Durant—in their primes and playing arguably their best basketball of the season, with or without Leonard on the floor. Clearly, players like LaMarcus Aldridge, Patty Mills and emerging Jonathan Simmons will need to play lights out for the Spurs to have a chance against the all-star laden Warriors.
But history has taught Spurs fans one undeniable lesson; In Pop We Trust.
This should be an amazing playoffs series!