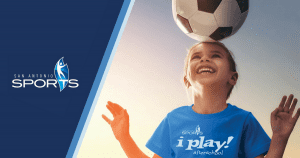 The PM Group is excited and incredibly proud to announce our new partnership with San Antonio Sports, a non-profit organization built to reinforce the importance of sports and an active lifestyle in San Antonio youth. The PM Group was named agency of record effective August 1, 2018.
San Antonio Sports is a dynamic nonprofit organization, founded in 1984 with a mission to transform our local community through the "Power of Sport." They strive to help develop confident, healthy, and energetic youths while fostering places to play and creating events to impact the community. They also play a significant role in bringing major sporting events to   San Antonio like the NCAA Final Four tournaments.
For some members of our agency, San Antonio Sports is more than just a new client. Agency President/COO Fran Yanity is thrilled to have joined as San Antonio Sports' newest board member. Fran looks forward to serving with over 60 other high-profile San Antonio board members representing many of San Antonio's best business leaders and companies.
San Antonio Sports has extended their reach to a variety of different programs, but "One of the initiatives we are particularly excited about is the iplay after-school program," said Fran. "iplay is an extraordinary program which aims to help 3rd, 4th, and 5th grade students by igniting their passions for sports while building character and boosting personal fitness." The PM Group couldn't be prouder of this opportunity to expand San Antonio Sports' mission with new breakthrough fundraising campaigns.
One of the many strategic advantages for our new client is that they won't just be working with The PM Group, San Antonio Sports will be working with the whole PM Group family of companies. The PM Group will collaborate with the largest South Texas production company, Quarter Moon Productions and with cutting-edge digital and public relations firm, Noisy Trumpet.
The entire group is excited to help elevate San Antonio Sports and their iplay program to new heights in San Antonio and South Texas. Let the work begin!
About The PM Group: The PM Group was founded in 1988. Over the past 30 years, the agency has continued to grow and is currently listed as San Antonio's Largest Advertising Agency by the San Antonio Business Journal. The PM Group's client roster spans numerous industries including automotive, CPG, entertainment and sports marketing, legal, business services, non-profit, real estate and fitness. In addition, the agency hosts an annual Charity Gala every February that to date has raised over $3 million for local San Antonio area non-profit organizations in the last 15 years! It is our way of giving back to the community that we so humbly serve.