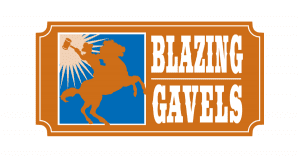 Public television is a unique medium that offers viewers of all ages an enriching, educational, and high-quality alternative to traditional television programming. The San Antonio and Austin local PBS affiliate, KLRN, focuses on the distribution of knowledge and information. When tuning in, you can find a range of topics including history, culture, art, current events, nature, and human science. Although a gritty hour-long crime drama and a lighthearted music show have their place, enriching and informative programs also deserve to thrive for years to come. That's why we are proud to support such a great cause in our community.
This summer, June 6th to the 16th, Blazing Gavels will once again air as San Antonio's most ambitious live event. Companies from across the nation participate by donating items for the event. This year, The PM Group is pleased to contribute four packages to the auction. These donations include gift cards to Neiman Marcus, Saks Fifth Avenue, and Macy's as well as a couple of iPhone 6s. We are honored to be a Chairman's Board-level sponsor this year and look forward to helping PBS and KLRN meet their fundraising goals.
Blazing Gavels is the largest television auction in the state of Texas, 52 years running. Not only are hundreds of rare, valuable, and exciting items sold (often below fair market value), but the proceeds raised help fund KLRN's mission to open a world of lifelong learning through trustworthy and enriching programs on-air, online and in our community.
We are firm believers in public television and radio for its priceless educational value.  To support PBS and KLRN, visit their website.
CLICK HERE to learn more about the Blazing Gavels auction and how you can get involved!
About The PM Group: The PM Group was founded in 1988. Over the past 30 years, the agency has continued to grow and is currently listed as San Antonio's Largest Advertising Agency by the San Antonio Business Journal. The PM Group's client roster spans numerous industries including automotive, CPG, entertainment and sports marketing, legal, business services, non-profit, real estate and fitness. In addition, the agency hosts an annual Charity Gala every February that to date has raised over $3 million for local San Antonio area non-profit organizations in the last 15 years! It is our way of giving back to the community that we so humbly serve.