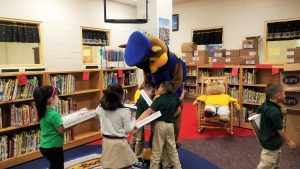 It's been a very busy few weeks for SA YES and the momentum isn't slowing down.
Last week SA YES concluded their first ever Drive Away 4 Education Truck Raffle sponsored by Ancira Auto Group and Sinclair Broadcast Group.  With over $113,000 raised in raffle ticket purchases, SA YES will be able to help 22,600 children in the San Antonio and surrounding areas.

And what better time to see the results of SA YES' efforts than during their annual school supply distribution as the children of San Antonio and Corpus Christi start a new school year.  In the last three weeks of August, SA YES will be visiting 48 schools within 5 school districts and distributing over 26,000 school supply kits by hand.

Some of The PM Group staff have joined them by volunteering their time to pass out school supplies and even dress up in costumes to get the students excited for a new year of learning.

If you want to find out more about SA YES' incredible mission make sure to visit their website and learn more.

About The PM Group: The PM Group was founded in 1988. Over the past 30 years, the agency has continued to grow and is currently listed as San Antonio's Largest Advertising Agency by the San Antonio Business Journal. The PM Group's client roster spans numerous industries including automotive, CPG, entertainment and sports marketing, legal, business services, non-profit, real estate and fitness. In addition, the agency hosts an annual Charity Gala every February that to date has raised over $2.5 million for local San Antonio area non-profit organizations in the last 15 years! It is our way of giving back to the community that we so humbly serve.