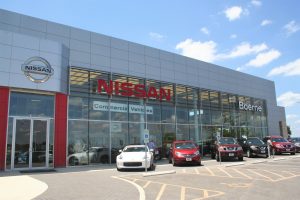 A simple service promise has quickly become a drastic service commitment. We're proud to announce that Nissan of Boerne has been officially recognized with its second consecutive Nissan Award of Excellence from Nissan of America in 2017 for outstanding customer service.

The second consecutive win in two years marks Nissan of Boerne a back to back winner of the award, as well as one of the most renowned dealerships in the area. With so much competition at the corporate, regional, and local levels, obtaining the award of excellence from Nissan is no small feat.

One simply can't afford to run a dealership with minimal selection. Nissan of Boerne kept this in mind when establishing the biggest Nissan dealership by square footage in the entire state! Nissan of Boerne isn't all lot and no talk. They have operated from day one as customer-centric. Their profound approach of buying in bulk and trying to move numbers instead of larger margins on individual cars has helped them to become one of the top-selling dealerships in the area. With prices and service, you are comfortable with, Nissan of Boerne is trying to be different.

Their excellence doesn't stop once you drive off in your new car. Boasting one of the biggest service bays in the area, they pride themselves in ample availability. In the rare event that one of their reliable Nissan cars needs service, it can be done quickly and professionally with all certified Nissan parts. For the above reasons and more, Nissan of Boerne is surely a dealership to keep in mind for those looking for Nissans near south central Texas, Austin, Boerne, and San Antonio.

At the PM Group, we realize that behind every great salesperson is a strategic marketing plan. In today's highly competitive world, "good" only produces "decent" rewards. "Great" sometimes garners "good" compensation. To do "great" in 2017, you truly have to be "excellent". Nissan of Boerne's second consecutive recognition of their excellence speaks volumes to their commitment.

We could not be prouder to work with Nissan of Boerne and are overjoyed with their recent success both in terms of both sales and more importantly, customer service.

Check out Nissan of Boerne's website..

– The PM Group

About The PM Group: The PM Group was founded in 1988. Over the past 30 years, the agency has continued to grow and is currently listed as San Antonio's Largest Advertising Agency by the San Antonio Business Journal. The PM Group's client roster spans numerous industries including automotive, CPG, entertainment and sports marketing, legal, business services, non-profit, real estate and fitness. In addition, the agency hosts an annual Charity Gala every February that to date has raised over $2.5 million for local San Antonio area non-profit organizations in the last 15 years! It is our way of giving back to the community that we so humbly serve.