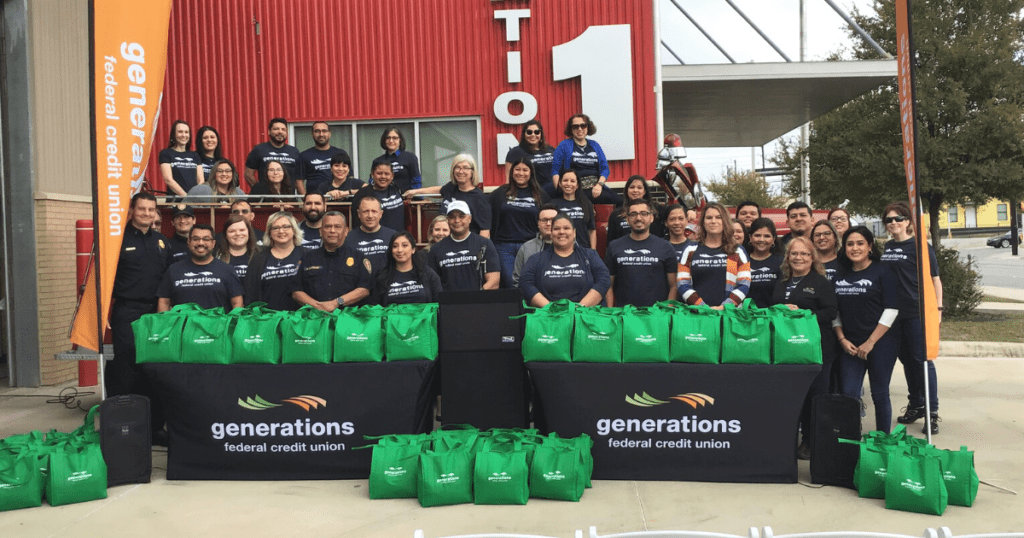 In 1940, Generations Federal Credit Union was founded to serve employees of the City of San Antonio, soon expanding to serve the San Antonio Fire Department and Police Department personnel. Now, celebrating 80 years in our community, GFCU serves over 50,000 Consumer and Commercial members with multiple branch locations and virtual banking services.
During the season of thanks, GFCU continues to give back to first responders who sacrifice so much for the families of San Antonio by continuing their annual "Turkey Express" tradition. This year, to recognize the hardworking men and women who give up Thanksgiving with their families to serve and safeguard our community, GFCU donated turkeys, hams, and apple pies to 56 San Antonio Fire Department stations and turkeys with the fixins to San Antonio, Balcones Heights and Castle Hills Police Departments.
What may seem like a simple gesture, is a thank you from the heart and recognition to the Fire and Police Departments for the effort they make to continue to keep our community safe.
About The PM Group: The PM Group was founded in 1988. For over 32 years, the agency has continued to grow and is San Antonio's largest advertising agency. The PM Group's client roster spans numerous industries including automotive, CPG, entertainment and sports marketing, legal, business services, non-profit, real estate and fitness. In addition, the agency hosts an annual Charity Gala that to date has raised millions of dollars for local San Antonio area non-profit organizations in the last 15 years! In the past 10 years, The PM Group has raised both directly and indirectly over $12 million for these charities. It is our way of giving back to the community that we so humbly serve.