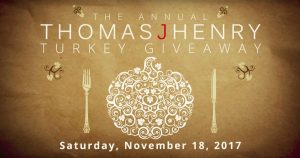 No stranger to philanthropic gestures, Thomas J. Henry is continuing his annual Thanksgiving tradition of giving back to the Coastal Bend Community. For over 20 years, on the Saturday before Thanksgiving, Thomas J. Henry has passed out turkeys to local Texans who could use a helping hand to get food on the table during the holidays. To date, Thomas J Henry has donated over 350,000 turkeys to people in the Coastal Bend area making the Thomas J Henry Turkey Giveaway one of the largest Thanksgiving charity events in the nation.

Coming from a hard-working and humble background himself, Thomas J. Henry knows how difficult and upsetting it can be to struggle to provide a nice meal for the family during the Thanksgiving Holiday which is why his mission in life is to fight for justice and protect the people of Texas by making sure they receive the compensation deserved after disastrous accidents or injuries.  Recipients of the Turkey Giveaway have expressed extreme gratitude and joy at the annual event as it allows them to have a true Thanksgiving dinner with their loved ones.

Over the years, the event has transformed from just being about handing out turkeys to those in need to a day of fun, merriment, and time for families to come together. The event offers fun activities such as a kid's zone which includes an inflatable sports challenge, carnival games, petting zoo, Santa and Mrs. Claus, face painting, clowns, music, popcorn and much more!

Everyone at The PM group is very proud of Thomas J Henry and all the charitable work he does. We are honored to work with him and understand his charitable spirit and passion is the lifeblood of his business. Thomas J. Henry looks forward to continuing the Turkey Giveaway tradition for decades to come!

For reference, here are all giveaway times and locations for 2017:

Alice, Texas 

Saturday, November 18, 2017
8:00am-9:00am
Jim Wells County Fair Grounds: 3001 South Johnson Street Alice, Texas 78332
San Diego, Texas

Saturday, November 18, 2017
9:00am-10:00am
San Diego City Hall: 404 N Mier Street San Diego, Texas 78384
Freer, Texas

Saturday, November 18, 2017
10:00am-11:00am
Duval-Freer Airport: 5348 E. Hwy 44 Freer, Texas 78384
Corpus Christi, Texas

Saturday, November 18, 2017
12:00pm-3:00pm
Thomas J. Henry Injury Attorneys: 521 Starr Street Corpus Christi, Texas 78401

About The PM Group: The PM Group was founded in 1988. Over the past 30 years, the agency has continued to grow and is currently listed as San Antonio's Largest Advertising Agency by the San Antonio Business Journal. The PM Group's client roster spans numerous industries including automotive, CPG, entertainment and sports marketing, legal, business services, non-profit, real estate and fitness. In addition, the agency hosts an annual Charity Gala every February that to date has raised over $2.5 million for local San Antonio area non-profit organizations in the last 15 years! It is our way of giving back to the community that we so humbly serve.