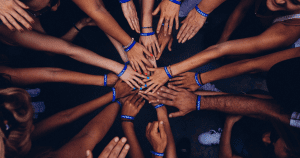 In retail today, consumers expect much more from brands than just a good product. These days, consumers want to see brands have a purpose or mission to give back to their community in a way that aligns with who they are. Whether a brand takes a stand on sustainability, local manufacturing, fair wages, or many other issues, it gives a brand depth and sets them apart from their competition in the eyes of consumers who value the same things.
In the last several years, brands have taken on voices of activism to match the activist roles their consumers care about. "62% of consumers want companies to stand up for the issues they are passionate about and 66% of consumers think transparency is one of a brand's most attractive qualities" according to Accenture. For instance, Patagonia has become the ultimate purpose-driven brand. Although they have always been environmentally conscious, they recently changed their mission statement from a focus on products to simply say, "we're in business to save our home planet". Their "reasons for being" expanded to include core values, building the best product, causing no unnecessary harm, and using business to protect nature. From the inside out, Patagonia is talking about the values its consumers are passionate about, reaching far beyond the products they may buy.
At The PM Group, not only do we carry a mission of giving back to our community, but we also know our clients feel the same way and are passionate about being more than just a product or service. If your brand is looking to expand its mission or engage with the community, let us work with you to redefine your brand's image and create a strategic marketing plan to educate your consumers on all that you provide and what you support.
About The PM Group: The PM Group was founded in 1988. For over 31 years, the agency has continued to grow and is San Antonio's largest advertising agency. The PM Group's client roster spans numerous industries including automotive, CPG, entertainment and sports marketing, legal, business services, non-profit, real estate and fitness. In addition, the agency hosts an annual Charity Gala that to date has raised millions of dollars for local San Antonio area non-profit organizations in the last 15 years! In the past 10 years, The PM Group has raised both directly and indirectly over $12 million for these charities. It is our way of giving back to the community that we so humbly serve.