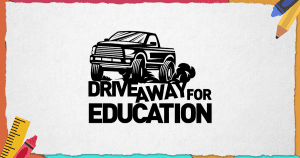 The charitable work that SA YES, Austin YES, and CC YES do wouldn't be possible without the support of so many kind-hearted individuals willing to donate to their cause. Thanks to the help of our communities, in 2018 all three organizations donated, in total, 39,500 school supply kits to Title 1 elementary school students. This year they plan to distribute even more and give more students the opportunity to start their school year off on the right foot.
Want to get involved and win big?
This summer, SA YES has brought back their Drive Away for Education Truck Raffle to give you the opportunity to win big while helping the students in your community. With every raffle ticket purchased, you have the chance to win a NEW Chevrolet, Ford, GMC, Nissan or Ram Truck donated by Ancira Auto Group – each valued at over $40,000!
Contest details
Tickets are now on sale and will be available for purchase until August 11th at 11:59 pm by visiting SA YES Drive Away. Participants have the option to purchase one ticket for $25, three tickets for $50 or 10 tickets for $100. This contribution is not tax-deductible and the winner is responsible for tax, title, license and federal withholding tax. All proceeds will provide school supplies to over 28,000 Title 1 Elementary schools. The winner will be announced during a live drawing Wednesday, August 14th at 10 pm on WOAI.
Best of luck to all of the participants!
About The PM Group: The PM Group was founded in 1988. For over 30 years, the agency has continued to grow and is currently listed as San Antonio's Largest Advertising Agency by the San Antonio Business Journal. The PM Group's client roster spans numerous industries including automotive, CPG, entertainment and sports marketing, legal, business services, non-profit, real estate and fitness. In addition, the agency hosts an annual Charity Gala that to date has raised millions of dollars for local San Antonio area non-profit organizations in the last 15 years! In the past 5 years, The PM Group has raised both directly and indirectly over $3.5 million for these charities. It is our way of giving back to the community that we so humbly serve.