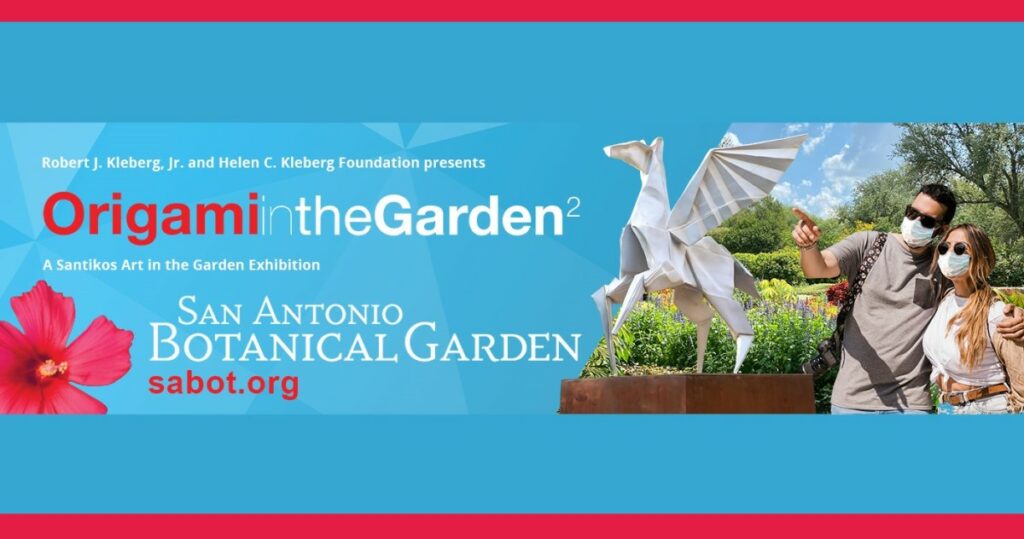 The San Antonio Botanical Garden recently enlisted the help of The PM Group and Noisy Trumpet as they debuted their newest exhibit, OrigamiintheGarden². Beginning September 19th until May 9th, you can visit the gardens to see the work of two Santa Fe artists, Jennifer and Kevin Box, who have captured the delicate forms of origami paper art using museum-quality metal. This unique and inspiring exhibit deserves to be seen, so we've been enlisted by the San Antonio Botanical Garden to bring more San Antonioans to their grounds.
This partnership has allowed us to work hand in hand with our sister agency, Noisy Trumpet, to pull our collective resources together and create a campaign that makes our client's voice heard. The PM Group worked to raise awareness via print ads in the San Antonio Express-News and strategically placed billboards throughout the city. On the other hand, Noisy Trumpet got to work on driving ticket sales while growing general admission through their highly targeted digital advertising and public relations strategies.
This new OrigamiintheGarden² exhibit fills our family of agencies with inspiration and makes us feel grateful for the diverse work we get to take part in. We know just how important it is to foster arts and culture in our San Antonio community and we look forward to seeing the San Antonio Botanical Garden bloom with new guests who are sure to become inspired as well.
About The PM Group: The PM Group was founded in 1988. For over 32 years, the agency has continued to grow and is San Antonio's largest advertising agency. The PM Group's client roster spans numerous industries including automotive, CPG, entertainment and sports marketing, legal, business services, non-profit, real estate and fitness. In addition, the agency hosts an annual Charity Gala that to date has raised millions of dollars for local San Antonio area non-profit organizations in the last 15 years! In the past 10 years, The PM Group has raised both directly and indirectly over $12 million for these charities. It is our way of giving back to the community that we so humbly serve.