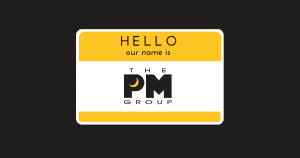 In celebration of our 30-year history, we've been reflecting on The PM Group's heritage. As we all know, brands evolve over time.  However, one of the constants of our agency has been our identity. Our yellow and black nocturnal aesthetic look has been as consistent as our ability to meet deadlines, even if it meant working late into the night.
Much to our surprise, our name has since proven to be one of our biggest conversation starters. When speaking with new clients and vendors, the question that comes up most often is: "Why are you called The PM Group?"
Although we love our yellow crescent moon and evening theme, our name actually has a unique story to it. So now, to settle the debate once and for all, we are putting it in writing…….what does the name The PM Group really stand for?
"PM" doesn't stand for "Performance Media", "Premier Marketing" or "Promotional Management" as many have guessed. In fact, it actually has a much more significant and heartwarming history. The "P" and "M" are actually the initials of our founder Bob Wills' mother – Patricia Musgrove. As the oldest of eight children, Bob often recollects they were a "group" and his mom was the best negotiator he ever knew. Bob often says, "his mother could turn a dime into a dollar." With eight children to feed, she certainly had to be creative in stretching the family budget!
So out of his deep love and respect for his mom—who died at the very young age of 46– Bob decided to name the agency in her honor.
And now, forever more we are The PM Group…..and we work until the job is done!
About The PM Group: The PM Group was founded in 1988. Over the past 30 years, the agency has continued to grow and is currently listed as San Antonio's Largest Advertising Agency by the San Antonio Business Journal. The PM Group's client roster spans numerous industries including automotive, CPG, entertainment and sports marketing, legal, business services, non-profit, real estate and fitness. In addition, the agency hosts an annual Charity Gala every February that to date has raised over $3 million for local San Antonio area non-profit organizations in the last 15 years! It is our way of giving back to the community that we so humbly serve.