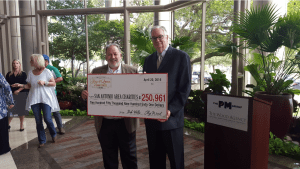 It was a record day for passing out checks to many local charities for The PM Group and The Wood Agency!
Today was a very rewarding day for The PM Group CEO Bob Wills and The Wood Agency CEO Skip Wood as they presented over $250,000 to nine local charities as a result of their annual charitable fundraiser. Every year both agencies team up to help local charities raise money.
"It feels great to support charities that really make a difference in the community. Our focus has always been with children, families, pet rescue and education," stated Bob Wills.
This year's event benefitted the following groups; ChildSafe, Brighton Center, Triumph Over Kid Cancer, SA Sports Foundation, UTSA Roadrunner Athletic Fund, God's Dogs Rescue, Animal Defense League, Mission Miracle K9 Rescue, Cressie Animal Rescue and the San Antonio Youth Educational Support Foundation.
In 2015, the two agencies raised a record $175,000 which makes this year's event all the more special for both men. "We are so thankful to everyone that helped make this event so successful, especially our staff, clients and sponsors." Skip Wood added.